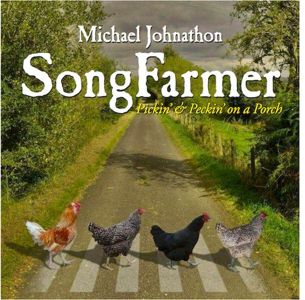 Lexington, KY -- It's a new idea for a music business that has changed so much that, frankly, it was inevitable ... but folksinger Michael Johnathon has released the very first national album recorded entirely on an iPhone.
"I wanted to imply the feel of an early folk recording using 21st century technology," he says from his log cabin home in Kentucky. The album is actually a musical statement in support of the recording arts. Johnathon, like most artists, laments the loss of CD sales, budgets and the ability to actually create art in a recording studio. "Some of the most talented audio sculptors in the world, recording engineers, are losing their careers as the music industry changes and budgets decline," says Johnathon."We are living among the first generation in human history that receives art and music as a non-organic, flat screen, digital two-dimensional experience. Fans don't even get to hold an album jacket anymore."
In fact, few people listen to complete albums on nice stereo systems and the public is being conditioned to hear only singles from a project. It reflects the dramatic changes happening in the music business. The compact disc is being phased out and even new cars don't have CD players in them, just a USB port. It leaves visionary artists in a quandary: the idea of a concept album - a full musical cycle like Pink Floyd's The Wall or the Beatles Sergeant Pepper - is becoming extinct.
So, the SongFarmer album ... simple voice with guitar and banjo ... was recorded on the same system the public is being trained to listen on: a smart phone. Which, oddly enough, isn't all that bad. The iPhone, as a recording platform, far surpasses what the Beatles recorded Abby Road on. Using high end Ear Trumpet mics, the Apogee Quartet with the multi-track Maestro, MetaRecorder apps plus his artist cabin as the studio, Johnathon set about the task of creating the album. "The technology is such that I could have recorded upwards of 32 tracks per song," says Johnathon, "but because of the concept behind this particular project, a folk album, the recording was kept very simple and acoustic.
The SongFarmer album has a more specific use. It will introduce the efforts of the WoodSongs Front Porch Association (WFPA) to media and 1,400 radio stations around the world. A "SongFarmer" is an artist who uses music to make their families, hometowns, and careers better.
Established in 2015 by a group of experienced folk and bluegrass leaders, the WFPA goal is to spread the spirit of the Front Porch into home towns around the world through the good works of the SongFarmer community. Members of the WFPA feel music does not have to be your livelihood to be a powerful, amazing part of your life. The front porch was once the grand pulpit of America's neighborhoods where moms, dads, kids, and friends would gather to sing a summer evening away.