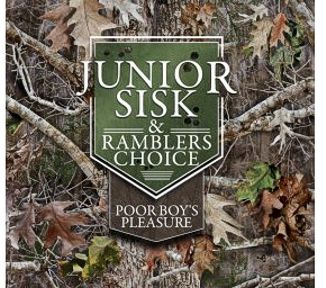 Willis, VA -- Mountain Fever Records is proud to announce the release of new music by Junior Sisk & Ramblers Choice. Poor Boy's Pleasure is available for pre-order now and will be available everywhere May 27th!
If reviews of the first single, "Longneck Blues," are any indication, Poor Boy's Pleasure is guaranteed to be the biggest hit yet for Junior Sisk & Ramblers Choice!
"Junior Sisk's new single 'Longneck Blues' is a hot potato. It has the familiar, old school, driving bluegrass sound with lyrics that are timeless. Like a new old shirt that's very comfortable, it's #1 with us." — Ken Cartwright, KYAC Community Radio
"Junior is no stranger to chart action and with 'Longneck Blues,' he's got another #1 single on his hands." — Terry Herd, Bluegrass Radio Network & Bluegrass Today
"Once again, Junior delivers first rate traditional bluegrass. The texture of his voice combined with his unique delivery capture the essence of the high and lonesome sound. Mix in outstanding musical support from his talented band, and you have another winner. On a five point scale of excellence, this project is a five!" — Bob Mitchell, The Bluegrass Jamboree, Southern Branch Bluegrass & Phoenix Country Radio
Supported by Ramblers Choice which includes Jason Davis on banjo; Jamie Harper on fiddle; Johnathan Dillon on mandolin; Kameron Keller on bass; and special guest Aaron Ramsey on guitar, Poor Boy's Pleasure is 12-tracks-strong of everything that creates the makeup of Junior Sisk; tradition, hunting, loving, country, and God!
Poor Boy's PleasureTrack Listing:
"Lonnie Ray"
"Longneck Blues"
"Hang A Wreath"
"Land On Our Feet"
"In This World But Not Of It"
"Jimmy, JD, & Paul"
"Walking In The Blue Ridge"
"I Watched You Go"
"Poor Boy's Pleasure"
"Cold In Carolina"
"What About Me Lord"
"Ain't Gonna Work Tomorrow"
Poor Boy's Pleasure, the new album due for release May 27th, is available for preview and pre-order today via iTunes [1]. Pre-order Poor Boy's Pleasure [1]
For more about Junior Sisk & Ramblers Choice, visit www.juniorsisk.us [2]. For more about Mountain Fever Records, visit www.mountainfever.com [3].