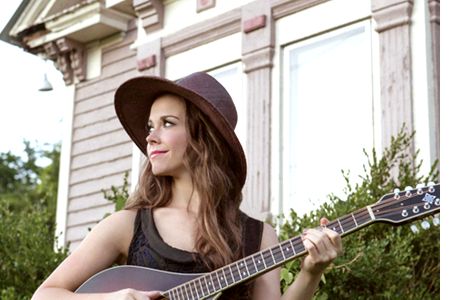 Bristol, TN/VA -- Radio Bristol Premieres focuses on new recordings debuted before a live audience, as well as a live broadcast and webcast on Radio Bristol. In this show, the talented Sierra Hull will perform from her new album, Weighted Mind. The performance takes place at the Birthplace of Country Music Museum in Bristol, VA. Doors open at 6:30 PM May 5th and tickets are just $35 per person.
Sierra Hull, the singer and mandolinist and former child prodigy who signed with Rounder at age 13, and distinguished herself by becoming the first bluegrass musician to receive a Presidential Scholarship to the prestigious Berklee College of Music, has announced the release of her first new album in five years. Weighted Mind will be released on January 29, 2016.
15 time Grammy winner Béla Fleck produced the recording, which features eleven compelling new compositions written or co-written by Hull, and one traditional tune for which she and Fleck provided a new arrangement. While Hull's ethereal voice and fluid playing take center stage here, she receives ample support from bass marvel Ethan Jodziewicz. Béla Fleck's banjo adorns the elegant "Queen of Hearts/Royal Tea," and Alison Krauss, Abigail Washburn, and Rhiannon Giddens add enchanting harmonies.
Though she is best known for her work as a mandolin player, on these songs, Hull reveals her abundant gifts as a composer and lyricist. Themes of loss and restoration run through the album, starting with the muscular opening number, "Stranded," and continue on the stirring "Compass," on which she declares, "I've thrown away my compass, done with the chart…I'll just step out, throw my doubt into the sea, for what's meant to be will be." The gentle, dissonant title track ponders existential questions, while the haunting "Birthday" and "Fallen Man" offer somber reflections on strained relationships and impossible choices. The album closes on an optimistic note, with the sweetly assertive "I'll Be Fine," and the uplifting, philosophical closer, "Black River." Fleck, Giddens, Krauss, and Washburn all guest on this track, on which Hull reflects, "A thousand years is but a day, and maybe in a thousand years, I'll find my way."
520 Birthplace of Country Music Way, Bristol, VA 24201 Visit www.BirthplaceOfCountryMusic.org [1] for more information. Click Here [2] for tickets.