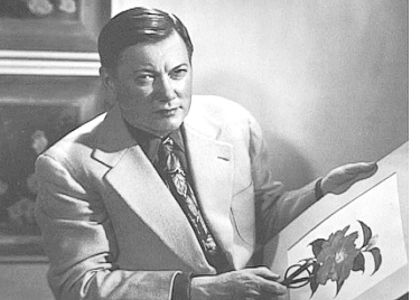 Bristol, TN/VA -- It all started with Ralph Peer, the ambitious record producer who recorded the 1927 Bristol Sessions and helped make The Carter Family and Jimmie Rodgers into household names. On March 30, the Birthplace of Country Music Museum will open a special display on the legacy of Ralph Peer using artifacts loaned by the Peer Family Archives. The display will give visitors a glimpse into Peer's influence beyond the Bristol Sessions and country music.
Ralph Peer II, the son of Ralph Peer, will be honored at a special reception at the museum after hours on March 30. The reception is only open to museum members. Ralph Peer II, the current Chair and CEO of peermusic, oversees a global network of music publishing companies operating from 35 offices in 28 countries. With well over a quarter of a million titles in the company's catalogue, and songs that vary from country, blues, jazz and pop to Latin, concert and rock 'n' roll, Ralph Peer II directs the largest privately owned company of its kind in the world.
"From Elvis and the Beatles to Beyoncé and Katy Perry, peermusic copyrights make up a vast catalogue of popular music recordings internationally," said Museum Director Dr. Jessica Turner. "There's a larger story to tell about Peer's success beyond the Bristol Sessions. We are excited for the opportunity to share that story at the Birthplace of Country Music Museum."
The Ralph Peer display will be integrated into the museum's permanent exhibits on the upper level of the museum and will be open through August 1. For more information about the Birthplace of Country Music Museum, including hours and ticket prices, visit online at www.BirthplaceOfCountryMusic.org [1].
The Birthplace of Country Music Museum, an affiliate of the Smithsonian Institution, explores the history of the 1927 Bristol Sessions and their lasting impact on our music heritage. From the Bristol Sessions and beyond, our region continues to influence music around the world. Through text and artifacts, multiple theater experiences, film and sound, and interactive, technology-infused displays—along with a variety of educational programs, music programs, and community events—the exciting story of this music and its far-reaching influence comes alive! Rotating exhibitions created in-house and by guest curators and other institutions—including the Smithsonian—will be featured throughout the year in the Special Exhibits Gallery. The museum is also home to an extensive digital archive.
The museum is located at 520 Birthplace of Country Music Way in Historic Downtown Bristol, Virginia/Tennessee. For more information about the Birthplace of Country Music Museum, visit www.BirthplaceOfCountryMusic.org [1]