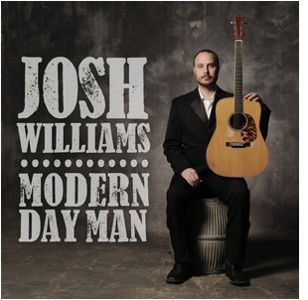 For his first album in more than 6 years, singer and three-time IBMA Guitarist of the Year Josh Williams has returned with a powerful story to tell. Recorded at Nashville's famed Hilltop Studios with the bluegrass Dream Team of producer J.D. Crowe and engineer Steve Chandler, Modern Day Man is partly a tribute to his idols Keith Whitley and Tony Rice, and the groundbreaking 1970s editions of Crowe's New South that launched both men.
From Rice, Williams gets his instrumental prowess and love of story songs. From Whitley comes his passion for heartbroken country soul. Two songs here appeared on Whitley's milestone 1982 Rounder album with Crowe,Somewhere Between - Jonathan Edwards' "Girl From the Canyon" and Tom T. Hall's "Another Town," performed in the bluegrass/country hybrid that was Whitley's New South signature.
"This album is different than anything Josh has done," says Crowe, who has known him for many years and hired him to fill in on New South dates. "Josh is not only a bluegrass artist, he can sing what I call good country music. He's very versatile. No matter what kind of music it is, get him the right material and he can do any of it."
Modern Day Man does just that, with the widest range - musically and emotionally - that Josh Williams has ever shown.
The story of Josh Williams is the story of bluegrass. Born and raised in Benton, a Kentucky town so small he locates it as "outside Paducah," Williams was brought up on bluegrass and vintage country. His grandmother, Mary Neale Williams, showed him some ukulele chords when he was 5 and by 9 he was playing banjo with local bluegrass bands. Just shy of his 10th birthday, he attended the 1990 IBMA Awards show in Owensboro and his life's path was set.
"I met just about every one of my heroes," he says. John Hartford became a mentor and arranged with Janet and Greg Deering to present Williams with a new Deering banjo. He learned all the bluegrass instruments and, in his senior year of high school, joined Chicago's Special Consensus, playing fiddle and mandolin, going full-time after graduation.
In 2003, Williams was offered the guitar slot with Rhonda Vincent & The Rage. The skinny kid with the banjo was becoming a man. Tall and handsome, with a soulful baritone that could soar from high lonesome bluegrass to deep country ballads, he was a perfect counterbalance to the force of nature that is Rhonda Vincent.
The next four years were a blur of non-stop touring and recording, marred only by his worsening drug and alcohol problems. After the 2007 festival season, Vincent had to let him go.
Somehow, the music never stopped. The Josh Williams Band began touring and recording, winning 2010's IBMA Emerging Artist. In 2008, his idol Tony Rice invited him to play mandolin in his band and Williams won the first of his three straight IBMA Guitarist of the Year honors (2008-2009-2010). From the outside, every dream he ever had was coming true. But it was all about to be obliterated by Williams' two-year-long methamphetamine addiction.
Around the time he released his 2010 Rounder debut, Down Home, he knew he had to take action. He checked himself into a rehab facility near his home in Dickson, Tenn., for the addiction that had wasted the 6'4" Williams into a 140-pound walking skeleton.
"I was headed for death," he says.
Halfway through his 30-day stay he received another reason to live. His wife Jenny told him she was pregnant with their first child, Weldon, now 5.
Out of rehab, Williams rebuilt his life from the ground up. At the end of 2012, Rhonda Vincent re-hired him, a testament to his recovery. He's been there ever since. "It gave me an opportunity to go back and right a lot of wrongs," he says.
Today, Josh Williams has been clean and sober for 6 years and counting and has now turned his struggles, his heartbreak and the victories along the way into the best music of his life, the masterful mix of bluegrass and classic country that isModern Day Man.
"I've seen Hell in a few different forms," he says. "I wanted this album to be a journey - 'Here's where I was, and here's where I am now.'"
Williams' journey is mapped in 12 songs from some of the finest writers in bluegrass and country, including Tom T. Hall, Chris Stapleton, Harley Allen, Ronnie Bowman and Jerry Douglas, played by an all-star group that includes Sam Bush, Aubrey Haynie, Sierra Hull, Rob Ickes, Scott Vestal, Aron McDaris and pedal steel legend Doug Jernigan.
Modern Day Man opens with the adolescent heartbreak of "Queen of the County Fair," about a girl who cheats on him, "out behind the 4-H barn."
The title track details the struggles of two generations, the father trying to keep his old Ferguson tractor running, the son dealing with the complex stresses of life today. "Lord have mercy on this modern day man."