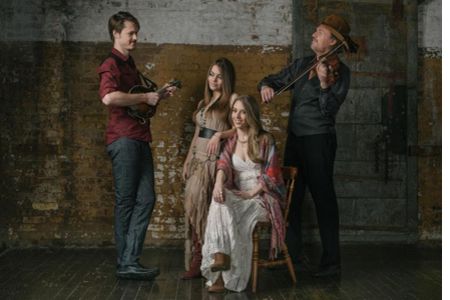 Nashville, TN - Rounder Records and Concord Music Group are pleased to announce the signing of the O'Connor Band. The band, which is already earning praise for their contemporary bluegrass and Americana sound, features Grammy and CMA Award-winning fiddle/violin virtuoso and composer Mark O'Connor, who is renowned for his musical versatility, and who recorded a series of albums - including his debut recording - for the label starting in 1974.
In the O'Connor Band, Mark is joined by his wife Maggie (fiddle, vocals), his son Forrest (mandolin, vocals), and Forrest's partner, Kate Lee (fiddle, vocals), all of whom are highly regarded young musicians who already have years of professional experience under their belts. The lineup is rounded out by national flatpick guitar champion Joe Smart on guitar, and University of Miami PhD candidate Geoff Saunders on bass and banjo. For all the instrumental virtuosity on display here, it is the songs - both Mark's instrumental compositions, and the vocal songs written by Forrest and Kate, the band's lead singers -- that are at the heart of this project.
Forrest, a graduate of Harvard University and the former Tennessee State Mandolin Champion, met Kate, a versatile vocalist, fiddler and frequent performer on the Country Music Association Awards shows, in late 2013, and the two have been writing songs together ever since.
Maggie, a Master's graduate of the Peabody Institute, is herself an accomplished violinist and fiddler and has performed duos with Mark around the world, including with the Mendelssohn Orchestra of Hungary, the Singapore Chinese Orchestra, and the Santa Rosa Symphony..
42 years ago, Mark was the youngest person signed to Rounder Records as a child prodigy and national fiddle and guitar champion, and released six albums there during his teenage years, including Soppin' the Gravy and Markology, both still regarded by many as two of the finest fiddle and bluegrass guitar albums in the genre.
He went on to record for a variety of labels, and released a number of groundbreaking and award-winning albums, including The New Nashville Cats and Heroes; Telluride Sessions (as a member of bluegrass supergroup Strength in Numbers); Appalachia Waltz and Appalachian Journey with Yo-Yo Ma and Edgar Meyer; and An Appalachian Christmas, which featured guest performances by a variety of artists, including Renee Fleming, Alison Krauss, James Taylor, and Chris Thile.
45 feature albums into Mark O'Connor's career, his return to Rounder - along with his family - brings him full circle. The band has been recording their debut album, slated for release this summer, with multi-Grammy-winning producer Gregg Field and Grammy-winning engineer Neil Cappellino.
Field says, "It's almost unfair that one family is blessed with such virtuosic talent. It's been a producer's dream to have musicians of this level and commitment all equally contributing to the album." He continues, "At the heart of any album is the songwriting. Kate and Forrest have seductively crafted alluring stories and colorful characters in their songs, some biographical and each one sounding like a new standard."
O'Connor reflects, "My musically talented family came together to create a band and make these recordings because of the new songs that we are writing, the music we are arranging as well as the bluegrass and fiddle music we loved to play in jam sessions growing up. To realize that a big record company like Rounder/Concord Music Group and a major record producer like Gregg Field saw the same value in us coming together was the writing on the wall. We just had to perform together, and we have set everything else aside to take the band as far as we can go!"
Visit www.OConnorBand.com [1] for more about this exciting band.