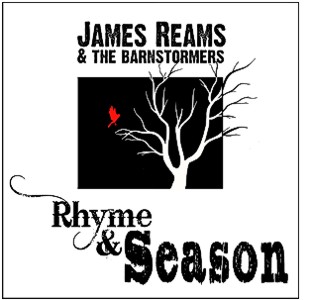 James Reams made an exciting announcement in his latest newsletter. "The release date is March 29th!! Sometimes I forget just how hard it is to release a new album. It's kinda like childbirth, the joy of seeing the new project in your hands makes you forget about the long months of labor to get to that point! Just take a look and listen to the "Making of
Rhyme & Season
" video and you'll get a taste for what it takes to make an album as well as a nice little appetizer of the album itself. Selecting the songs, writing new material, creating new arrangements, countless hours of practice, interviews, press releases, filming videos, graphic design, recording, mixing, production and finally distribution…it can really take a toll on a feller (and his pocketbook!). But you couldn't find a prouder "papa" than I am about my latest CD,
Rhyme & Season
, which will be available on CDBaby, Amazon and other online sources on March 29th."
Rhyme & Season represents something I've wanted to do for a long time. It's a concept album that tells a lot about my own personal journey while connecting with the journeys of so many across the US. This album includes a nice mix of uptempo songs and ballads plus an a cappella song and a breakneck instrumental that'll have you gasping for breath. I guarantee there's something to please everyone on this album!
One of the songs I included is called "Long Gone Out West Blues." I picked this song because it reminded me that we all have the option to start over. I made a few changes to the lyrics to relate this song to my decision to leave Brooklyn and move out west to Arizona after I lost my life partner, Tina Aridas, to cancer. I found new life in the desert and have made many new friends. This change of scenery was just what I needed to give me the strength to tackle a new album project.
The a cappella song "Lord, Lead the Way" that I co-wrote and arranged traces the journey I've made from the mind-numbing loss of direction in my life when Tina died to getting my feet back on solid ground and finding my way again. I couldn't have done it without the Lord's help and now I hope to reach out and help others.
It's my hope that Rhyme & Season will help raise awareness about the different faces of the homeless in our nation. To that end, I will be contributing a portion of the proceeds from the album sales to a local charity in Phoenix, Circle the City, that provides medical respite care for homeless veterans and others who have no place to go once they are released from the hospital.
Most of the songs on Rhyme & Season celebrate the free and independent spirit that lives within all of us and especially flourishes in folks like truck drivers, train hoppers, and wanderers. Overall, it's an upbeat album that speaks of hope and encourages tolerance and understanding of those who choose to be homeless or have it thrust upon them.