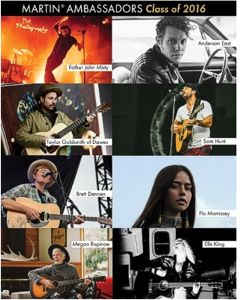 Nazareth, PA -- C.F. Martin & Co.® is continuing to add to their official Martin Guitar Ambassador program with today's hottest artists including Grammy nominee Elle King, Sam Hunt, Anderson East, Father John Misty, Taylor Goldsmith of Dawes, Flo Morrissey, Brett Dennen, and Megan Rapinoe. These musicians join the family of Martin Ambassadors who comprise a venerable group of career artists that love and proudly represent the Martin Guitar brand known worldwide for 183 years of premiere craftsmanship and guitar innovation.
"Martin Guitar has been fortunate to have countless legendary singer/songwriters play our instruments for decades - everyone from Hank Williams to Johnny Cash," said Chairman & CEO Chris Martin. "Now with the Ambassador program, we are enhancing the successful relationships we have had with generations of popular musicians who have are devoted to our brand by formally acknowledging their talented musicianship and love of Martin Guitars."
The Martin Ambassador Program consists of a variety of talented artists, whether their background lies in music or sports, and the diverse roster already includes professional Olympic snowboarder Danny Davis, Americana Music Award winners Seth Avett of The Avett Brothers and Jason Isbell, Of Monsters and Men, Sturgill Simpson, The Milk Carton Kids, Ben Howard, LP, and more. The complete list of official Ambassadors can be found here: www.martinguitar.com/ambassadors [1].
"Three years ago we wanted to create an Ambassador program that felt more like a family of friends than a list of artists that just happen to play Martin guitars. I am proud to say that we are accomplishing this goal through our flagship program," said VP of Brand Marketing, Amani Duncan. "The Martin Ambassador program consists of a select number of the most talented singer/songwriters on the music scene today who we consider to be career-artists making a profound and diverse impact in music."
A select number of artists have also collaborated with Martin Guitar's Custom Shop to create Artist Signature Edition models. These include two Ed Sheeran Signature Editions and the D-35 Seth Avett of The Avett Brothers. Martin has also ventured into the world of action sports with Ambassadors like the newly announced US Women's National Soccer Team Megan Rapinoe, Billabong-sponsored surfer and singer-songwriter Donavon Frankenreiter and professional Burton snowboarder riders Jack Mitrani and Olympian Danny Davis. Burton, Danny Davis and Martin came together to create the limited edition Burton's Winter 15 Easy Livin Snowboard, featuring Martin Guitar-inspired graphics that Danny rode during the 2014 Winter Olympics and X Games.