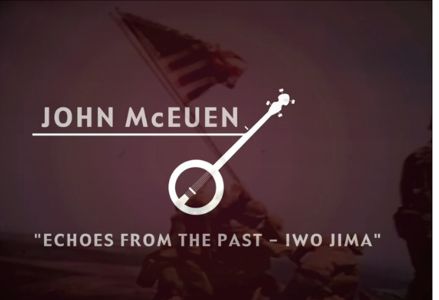 John McEuen writes, "While on the island of Vieques (Puerto Rico) I found the biggest echo I have ever heard - in one of the old ordnance bunkers there, where the Navy used the island for target practice and bomb testing in days gone by. On this 70th year of both the flag raising at Iwo Jima and my own raising, I took the video Marilyn shot of me and put it together with this footage for an homage to our veterans from that era."
A founding member of the Nitty Gritty Dirt Band (now in their 50th year!) John McEuen has continually performed since 1964 - 8,500 concerts and 300 television shows throughout more than 3 million miles - with the band and as a solo performer. Beyond performing, he has a rich history of creating, producing and preserving original and traditional folk and acoustic music, and taking it to new audiences.
He brings his guitar, banjo, fiddle, and mandolin along with favorite Dirt Band songs and the stories behind them to the stage in a manner that recently earned the honored Best in the West Award from the Folk Alliance Organization.
McEuen has made over 40 albums (6 solo) that have earned four platinum and five gold recognition awards, Grammy nominations, CMA and ACM awards, an Emmy nomination, IBMA record of the year award, and performed on another 25 albums as guest artist. He's also produced more than 300 concerts throughout his career - the first in 1965 in Long Beach Calif., with Bob Dylan.