---
Introducing The Becky Buller Band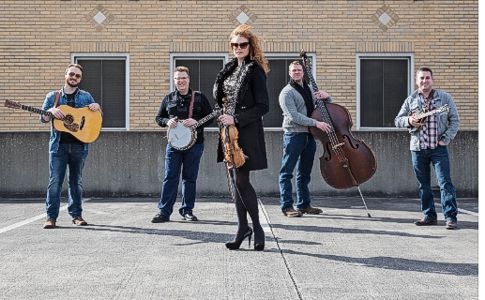 Becky Buller has announced the creation of her own band. She is pleased to introduce you to the fine gentlemen, most of whom you already know and love. She complements them noting that "each one is so incredibly talented and fun to travel and create with; I can't begin to tell you how much I'm looking forward to working with them this year."
Dan Boner
mandolin, fiddle, guitar, vocals

I met Dan when he arrived at East Tennessee State University my senior year, drawn to the school, as I was, by the Bluegrass, Old-Time and Country Music Studies program. The Bridgeton, N.J., native, has now been the director of that program since 2010, serving as assistant director for a few years before that. Lucky for me, having Dan on the road a bit is proving to be a valuable recruitment tool for ETSU! He plays anything and everything well and is a wonderful songwriter to boot. In 2004, he began a recording and performance collaboration with shamisen virtuoso Takeharu Kunimoto, which took Dan on tour to Japan several times. I am proud to be part of his first solo record The Gospel Way, released in 2007. He was featured in the November/December 2014 issue of Flatpicking Guitar Magazine, he is a 2015 IBMA Mentor of the Year award nominee and he is about to become part of the Leadership Bluegrass class of 2016.

Brandon Bostic
guitar, resophonic guitar, mandolin, vocals

Brandon and I have worked together on and off since 2007 on a variety of projects. I'm proud to have had the chance to watch him grow into a stellar musician. He sounds just as amazing playing anything right side up as he does playing things upside-down and backwards. He's a talented live sound and studio engineer and has successfully established Root Note Studios in Murfreesboro, Tenn. This Milton, Fla., native is also a member of Blue Moon Rising; Big Virginia Sky; hangs around with those dodgy characters The Darrell Brothers; and is part of Grammy nominee and country legend Patty Lovelace's road band. (He made his Grand Ole Opry debut with her in 2015.)

Daniel Hardin
bass, vocals

By day, Daniel Hardin is a master machine operator and fire fighter at the Jack Daniels Distillery in Lynchburg, Tenn., where he has been employed since 2004. By night, he is the best bass player and tenor singer you've probably never heard of. He and I have collaborated together musically on and off since 2001; he's powerful, I'm here to tell ya! Daniel's high harmony and low four can be heard on many albums, most recently, my The Christmas 45, vol. 1.

Ned Luberecki
banjo, guitar, vocals

I was introduced to Ned's superlative musicianship on The Rarely Herd's Part Of Growing Up record and became a big fan of his and all of Chris Jones & The Night Drivers' work. Finally got to pick with him in 2011 and what a time it was! He's a go-to session player and regularly sits in with top acts in Bluegrass and Americana. He's half of the super duo Nedski & Mojo. He's one of our favorite voices on SiriusXM's Bluegrass Junction hosting "More Banjo Sunday", "The Sunday Banjo Lesson" and "Derailed". For the last several years he has been the voice of the IBMA award show. He is also a banjo Jedi master, teaching private lessons and camps around the globe. He just penned Alfred's new banjo instructional series: The Complete 5-String Banjo Method.
Becky expresses her thanks to Shelly Swanger for all this killer photography! Full band member bios are available at: BeckyBuller.com.
---
Source URL: http://cybergrass.com/node/5133
Links
[1] http://cybergrass.com/taxonomy/term/245
[2] http://cybergrass.com/taxonomy/term/4898
[3] http://cybergrass.com/taxonomy/term/2011
[4] http://cybergrass.com/taxonomy/term/2168