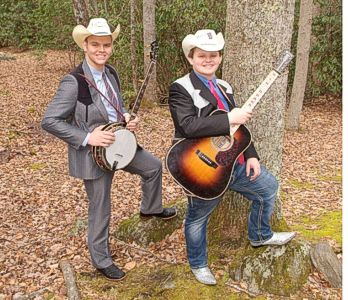 Hiltons, VA -- Saturday, February 20th, 2016, at 7:30 p.m. the Carter Family Fold in Hiltons, Virginia, will present a concert of bluegrass music by Jonah Riddle and Carolina Express. Carolina Express was formed by brothers Jonah and Grayson Riddle. Jonah is 16, and Grayson is 11. Growing up in the mountains of western North Carolina, Jonah has been playing the banjo for 4 and ½ years now. From the first time he picked up the instrument, he fell in love. He started out playing at church three times a week. Because he enjoys bluegrass and gospel music so much, he decided to start his own band – Jonah Riddle & Carolina Express. Jonah's brother, Grayson, plays guitar and does vocals. He has been playing guitar for almost 2 years. From the time he was only 5 years old, he would pick the guitar at church services. Jonah and Grayson credit the Lord for their playing and singing talent. Their dad, Benjie Riddle, plays the upright bass. The Riddles are bringing along an outstanding fiddle player – Mary Rachel Nalley – who plays fiddle for the Kody Norris Band.
Jonah and Grayson have had the privilege of picking on stage with many great artists – Doyle Lawson, Darin & Brooke Aldridge, Balsam Range, Ralph Stanley II, Nu Blue, Ricky Skaggs, J.D. Crowe, and Kody Norris – just to name a few. They have performed many concerts all across the U.S. The Ryman Auditorium Courtyard, the North Carolina State Fair in Raleigh, Woodsongs, the Lyric Theatre in Kentucky, Houstonfest, the Orchard at Altapass, the North Carolina State Bluegrass Festival, Bluegrass First Class in Asheville, North Carolina, the Earl Scruggs Center, the Pickin' Porch, and the Museum of Appalachia are just a few of the events and venues they have played. Members of Tomorrow's Bluegrass Start, they have performed at IBMA Kids on Bluegrass in Raleigh, North Carolina. They have won several awards during the time they have been performing such as Best of Show and individual awards for playing their instruments.
This concert will mark the group's second performance at the Carter Fold. They graciously donated their time to present our 2015 Christmas Show concert. Talented beyond their young age, this group will go far. Check them out on Facebook and the web. You'll be impressed by their showmanship and professionalism. Admission is $10 for adults, $1 children 6 to 11, and under age 6 free. Tickets are sold at the door.
Carter Family Memorial Music Center, Incorporated, is a nonprofit, rural arts organization established to preserve traditional, acoustic, mountain music. For further information on the center, go to http://www.carterfamilyfold.org [1]. Shows from the Carter Family Fold can be accessed on the internet at http://www.carterfoldshow.com [2].
Carter Music Center is part of the Crooked Road: Virginia's Heritage Music Trail. You can visit the Crooked Road Music Trail site at http://thecrookedroad.org [3]. Partial funding for programs at the center is provided by the Virginia Commission for the Arts and the National Endowment for the Arts. For recorded information on shows coming up at the Fold, call 276-386-6054. The Fold is on Facebook – page Carter Fold – and Twitter – Twitter @carterfoldinfo.