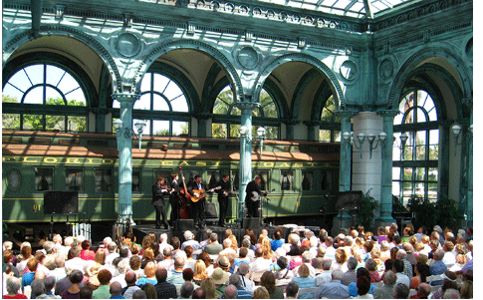 The 11th Annual Bluegrass in the Pavilion concert continues to bring the best Bluegrass musicians to South Florida. Artists for the 2016 performance are Flatt Lonesome and the Lonesome River Band.
Flatt Lonesome is a young, new group of pickers fresh to the scene. While deeply-rooted in bluegrass music's historic classics, they also have an energetic flair for country sounds, progressive jams, and soul-stirring gospel music while never forsaking their traditional essence. If you love high lonesome harmony, soaring sibling vocals and powerful bluegrass music, then you will love Flatt Lonesome!
Flatt Lonesome was born from the Robertson family's bluegrass gospel band, Sandy Creek Revival. Pastor Dolton Robertson, his wife Lisa, and their three children Kelsi, Buddy, and Charli began playing as a group just a few years ago because of their love of bluegrass and the desire to play music together as a family. This quickly grew into a passion for the Robertson children with a great longing to travel, write, and record. So, in January 2011, Kelsi, Charli and Buddy teamed up with friends Dominic Illingworth, Michael Stockton, and Paul Harrigill (who is now married to Kelsi as of September 21, 2012) and became Flatt Lonesome. In February of 2011, the band entered the SPBGMA International Band Championship in Nashville, TN and placed 3rd – not bad for the band's very first time on stage! To commemorate the band's first anniversary in 2012, they once again entered the SPBGMA Band Championship where they were awarded 1st place.
Lonesome River Band continues their reputation as one of the most respected names in Bluegrass music. Virginia Country Music Hall of Famer and multi-award winning banjo picker, Sammy Shelor (banjo and harmony vocals) has put together a wealth of talent that includes: Brandon Rickman (lead and harmony vocals and guitar); Mike Hartgrove (fiddle); Barry Reed (bass, harmony vocals); and Randy Jones (lead and harmony vocals, mandolin) all performing the distinctive LRB sound fans love.
Lonesome River Band's long career is filled with a multitude of Awards and Recognitions including their 2012 International Bluegrass Music Association (IBMA) Award for Instrumental Recorded Event of the Year for their song "Angeline the Baker" from their CHRONOLOGY Volume One album. Sammy Shelor received his fifth win as the 2012 IBMA Banjo Performer of the year. The group has also received other awards from IBMA including Album of the year, along with numerous Awards from SPBGMA – Bluegrass Band of Year, Vocal Group of the Year, Song of the Year and Shelor as Banjo Player of the Year. Sammy Shelor received the 2nd Annual Steve Martin Prize for Excellence in Banjo and Bluegrass. Lonesome River Band with special guest Steve Martin made an appearance and performed on the Late Show with David Letterman on November 11, 2011.
For over 30 years, Lonesome River Band continues set the standard in the bluegrass music world. Whether performing on the famous stage of the Grand Ole Opry or headlining major concert events and festivals, their loyal fans continue one of the most loved and most influential acts of our time.
Many great musicians have had the opportunity to play for the Lonesome River Band through out the years. Sammy Shelor, having been there from the beginning, has seen all the variations. He has enjoyed performing with such stellar musicians as Kenny Smith, Don Rigsby, Ron Stewart, Rickie Simpkins and Mike Hartgrove (who returned in 2005) – each of whom had moved on to pursue other musical endeavors. With each personnel change, Shelor looked for new musicians who could not only fill a spot that had been left vacant, but also bring in an artists with talents of their own.
When it was completed in 1902, Whitehall, Henry Flagler's Gilded Age estate in Palm Beach, was hailed by the New York Herald as "more wonderful than any palace in Europe, grander and more magnificent than any other private dwelling in the world." Today, Whitehall is a National Historic Landmark and is open to the public as the Flagler Museum, featuring guided tours, changing exhibits, and special programs.
The Museum is located at One Whitehall Way, Palm Beach. The Museum is open from 10:00 a.m. until 5:00 p.m., Tuesday through Saturday, and noon until 5:00 p.m., Sunday. Admission is $18 for adults, $10 for youth ages 13-17, $3 for children ages 6-12, and children under six are free. For more information, or to purchase tickets please call the Flagler Museum at (561) 655-2833 or visit www.flaglermuseum.us [1]
All proceeds from the concert benefit the Museum's children education programs. Visit http://flaglermuseum.us/programs/bluegrass-concert [2]