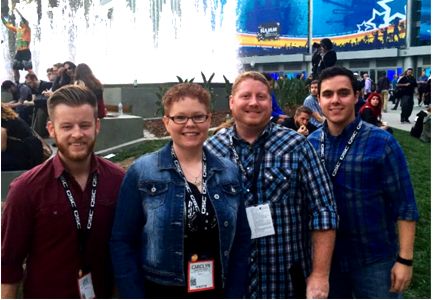 Nashville, TN -- Nu-Blu, the fastest-growing act in bluegrass and Americana music, is kicking off 2016 with a blockbuster tour across North America, including a stop in Baja, Mexico. The group recently performed during The NAMM Show (National Association of Music Merchants) in Anaheim, California while supporting their partners Peterson Tuners, D'Addario, QSC Audio, Sennheiser/Neumann.Berlin, Hercules Stands and Kirlin Cables.
Nu-Blu returned to the 2016 NAMM Show for the fourth consecutive year to entertain fans with multiple showcase performances. Each sponsorship offers the most unique and innovative products on the market, which other band's like Nu-Blu depend on for each and every show. Nu-Blu also got a chance to interact with attendees at the event, showing each product to new, potential users.
The bluegrass chart-toppers recently inked a deal with NS Design for a new bass, which is played by power-house vocalist Carolyn Routh. "Carolyn Routh's vocals shine with distinction, bringing tones of Melissa Etheridge's biting soul combined with diva Paula Cole's crafty melodic sense and range," said NS Design's Artist Relations Manager Corey Redonnett. He adds, "NS is proud to add Carolyn as a RADIUS bass endorser to a long list of creative and hard-working artists."
Carolyn Routh raves about NS Design, stating "I've been searching for a long time to find the perfect bass guitar to fit my needs and add a new dynamic to our stage show. The NS CR4 Radius is that bass."
Another recent endorsement for Nu-Blu comes from Sorensen Mandolin & Guitar Co, who provides top-of-the-line instruments for acts in all genres. Multi-instrumentalist Clint White has already began hitting the stage with his brand-new AX A-style mandolin that delivers a fantastic blend of traditional and modern sound.This is the introduction of this model Sorensen mandolin, as it makes its recording and touring debut with Nu-Blu.
As the new year begins, Nu-Blu also reflects back on a memorable 2015, which propelled them to new heights with their hit song "That's What Makes the Bluegrass Blue" featuring Rhonda Vincent. In addition to hitting No. 1 on Sirius-XM Bluegrass Junction's Most-Played Songs chart, the song also charted in Bluegrass Today's Top 30 most played songs of 2015. The band is already hard-at-work on the follow-up to their critically-acclaimed album, All The Way.