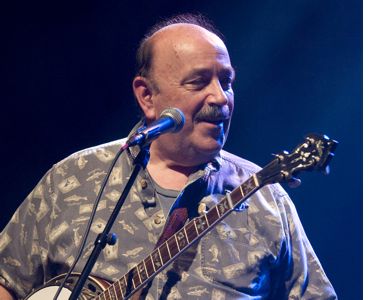 The Seldom Scene announces that founding member Ben Eldridge has retired after nearly 45 years with the Grammy-nominated band. Eldridge is the last original member of the popular bluegrass quintet, but the band will continue to perform, with Rickie Simpkins on banjo and fiddle.
"It was a very hard decision to make, but I've been wanting to stop for a while," Eldridge said. "I'm 77, I don't like traveling much anymore and I'm not playing that well. My left hand is going south on me."
He shared his decision with band mates Lou Reid, Dudley Connell, Fred Travers and Ronnie Simpkins – Rickie's brother – at a recent show in Virginia, where he visited with the band but didn't play. His final performance was New Year's Eve at the Birchmere Music Hall in the Washington, D.C., suburbs, joining the band on stage at the end of night.
The Seldom Scene started performing gigs in 1971, after playing together at informal jam sessions in Eldridge's basement. The band quickly became a local favorite, then developed a national following for bringing the drive of bluegrass to music from outside the genre, including folk and rock and roll.
Eldridge and other members of the original Seldom Scene lineup are members of the International Bluegrass Music Association's Hall of Fame.
"It's the end of an era," Travers said. "We'll miss Ben immensely."
Added Reid, "It's really hard for all of us. Ben has been one of my idols since before I joined the Scene. We all love Ben Eldridge."
Connell has always admired Eldridge's playing, but gained new respect for him during his absence from the stage in recent months. "I've watched great banjo players struggle as they tried to capture what I now consider to be Ben's genius," he said. "I mentioned this to Ben last week, and he told me he just played what came naturally to him. That's the magic and pure genius of Ben's playing. To him, it was easy."
Turnover is rare for the Scene. The last personnel change came when co-founder John Duffey died in 1996, and Reid rejoined the band for his second stint. Travers, Connell and Ronnie Simpkins all joined the band on the same day in late 1995 and made their debut on New Year's Eve that year at the Birchmere. In what is perhaps a fitting bit of irony, their 20th anniversary of joining was Eldridge's last official show.
To a man, Eldridge and the four remaining members are excited to have Rickie Simpkins join them. But no one is more excited than Ronnie Simpkins, who last played regularly with his brother when they were part of the Tony Rice Unit.
"It's really difficult for all of us to see Ben leave the Scene," he said. "Not only is he one of the most innovative banjo players on the planet, he's been the heart and soul of the band. While I'm really sad to see Ben go, I'm very excited to share the stage again with my brother. Whatever he comes up with, it's going to be magical."
In addition to Tony Rice, Rickie Simpkins regularly toured with Emmylou Harris. With both of those bands off the road, he's looking forward to getting back to playing regularly.
"I'm just honored and thrilled and beside myself," he said. "I've been putting a lot of time in trying to get these songs in my head."
Fans who hear the new iteration of the band are in for some surprises. The Scene has never had a regular fiddle player and now it is getting one of the best in the business. But he's also accomplished on the banjo and can sing lead, baritone and tenor.
"All of us in the band are truly excited to have Rickie on board," Travers said. "It adds a whole new dimension."
And while the remaining members are understandably saddened by Eldridge's decision, they get to say goodbye this time without having to attend a funeral, as was the case when Duffey died unexpectedly 19 years ago.
"This is fun because we get to say thank you and tell Ben we love him to his face," Travers said.
And this goodbye isn't necessarily forever. Eldridge said he's likely to turn up now and again for special reunion shows, joining founding members John Starling and Tom Gray and current members of the Scene.