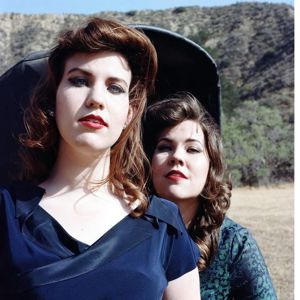 It's the first Bluegrass Underground of 2016, but it's a show people will be talking about long after those New Year's resolutions have been forgotten. Both acts are headed to your TV this year, as part of one of the most highly-anticipated musical events on PBS - American Epic: http://www.pbs.org/americanepic/ [1].
Now, I've been writing about music for a very long time, but I have never seen a more intriguing bio than the one for The Americans, the California band making their Bluegrass Underground debut on Jan. 16.
I've never been a cut-and-paster, but here are the first two paragraphs in their entirety, a quote and a bit of band history.
The Americans are part of this group, these genius twenty-first century musicians that are reinventing American heritage music for this century. And it sounds even better this century.
- T Bone Burnett
The Americans perform original rock & roll with deep roots in traditional American music. They have performed on the Late Show with David Letterman, twice joined Grammy and Oscar winner Ryan Bingham on national tours, and played the first dance at Reese Witherspoon's wedding. They have backed up Nick Cave, Tim Robbins, and Lucinda Williams.
The four-man band - Patrick Ferris, vocals and guitar; Zac Sokolow, guitar and banjo; Jake Faulkner, bass; and Tim Carr, drums - is based in Southern California and started out as a traditional stringband in a pretty vital old-time music scene that has also produced Gillian Welch, David Rawlings and fellow American Epic artist and bluegrass Underground veteran Frank Fairfield.
But they soon evolved in a rock band that used the music of Opry pioneer Uncle Dave Macon and the Memphis Jug Band as a springboard to something completely their own.
"It's not so much paying homage, but to take something from it (traditional old-time music) and make something new, something modern," says Ferris.
For their BGU concert, they'll be paired with the Secret Sisters, siblings Laura and Lydia Rogers. They will likely perform together, something they did the first time they shared a stage a few years back, ironically enough, at an L.A. venue called The Cave. And while you may be unfamiliar with either act, if they were stocks, you should invest now, because their profiles are likely to soar in 2016, when they're featured in American Epic. The multi-part series airs on PBS (date TBA) and was produced by Robert Redford, T-Bone Burnette and Jack White. It tells the story of the first commercial field recordings of the '20s and '30s, including Ralph Peer's legendary "Big Bang of Country Music" sessions in Bristol, Tennessee/Virginia and the Memphis blues, gospel and jug band sessions that followed.
Along with the documentary, there's a lot of live music, much of it played by The Americans, parts of a roots music Who's Who that includes co-producer White, Willie Nelson, Alabama Shakes, Elton John, Taj Mahal, Naz, Rhiannon Giddens and their BGU buddies The Secret Sisters, among others. The thing is, they'll be recording on the same sort of equipment used on those original sessions in the 1920s and '30a.
"The highlight of the project for us was recording on that equipment," says Ferris. "No one had had the opportunity to do that since the company went out of business in 1934."
Ferris won't reveal exactly what songs they recorded. They unplugged for the sessions, though, and went back to their old string-band format, recording an Uncle Dave Macon number and backing other artists. To top it off they were sonic guinea pigs, putting down the first music on that equipment in over 80 years. "We did the test recording.' he says proudly. "That was pretty amazing, to be the first people." But that's not the only reason they remember the experience.
"There is a magic, not only to the music, but to the way those records sound, too, the natural compression of the single microphone, the mono recording and the medium, going directing to a stylus (that cuts the record). That makes it really warm and rich."
Patrick's' love and knowledge of the music of that era resulted in his working on American Epic as an associate producer for research. They'll plug in for their Volcano Room show, and their new album, "I'll Be Yours," also features that configuration. "We'll definitely be doing our original material," he says. But if you want a copy of the new CD, for now, you have to be at the show. It's not officially out yet, and you can't even get it at their website (http://www.theamericansmusic.com/ [2]). However, the band pressed a limited number of pre-release copies, available only at their concerts.
If you haven't heard the Secret Sisters yet, it's about time. The Volcano Room has proven the perfect venue for everything from the full-tilt honky tonk of Vince Gill and his big concert band to the lonesomest bluegrass of Ralph Stanley, but there's something special when two voices come together in close harmony 333 feet beneath the surface. We saw that with the Civil Wars' legendary BGU set back in 2012. In that light, Laura and Lydia Rogers, The Secret Sisters, will be chilling spines and raising neck hairs throughout their performance.
They have two CDs out, both produced by Burnett, who you can be assured, did not take the gig for the money. And, for the sisters, Bluegrass Underground runs in the family. Their dad, bassist Ricky Rogers, played the Volcano Room in 2013 with Iron Horse, the band that made its name doing rock classics bluegrass style. And not no-brainers like Eagles songs. One of the favorites at the show was Metallica's "Enter Sandman." His daughters are equally unpredictable. Check them out at www.SecretSistersBand.com [3]. Music starts at 1 p.m. Jan. 16.