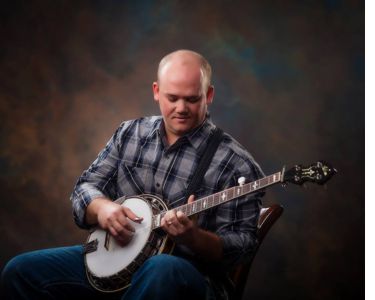 Breaking Grass is excited to announce the addition of Jody Elmore to the band effective immediately. Jody is a multi-instrumentalist and talented lead and harmony vocalist who will be replacing Thelton Vanderford on banjo.
Jody hails from Gordo, Alabama and was introduced to bluegrass at age 13 by his father. Throughout high school, he alternated between banjo and electric bass in the FFA band. After playing in several local bands with friends and his future wife, Heather, he landed a job playing guitar and singing lead vocals with Tim Graves & Cherokee where he stayed for six years.
Jody has many musical influences from Doyle Lawson to George Strait and listens to many genres of music. When not on the road, he enjoys spending time with his wife and working with their horses, hunting, and shooting sports. Of his new role, Jody says, "I am extremely excited to be a part of Breaking Grass! They have a sound all their own and I look forward to adding to that. They are all very talented guys and good men as well."
Breaking Grass began nearly a decade ago and are proud to have had the original band members ever since. Band member Cody Farrar states, "Change can be a scary thing; especially within a band that has become so comfortable with each other musically. Thelton is an extremely skilled musician and will continue to pursue other music endeavors and we wish him the very best. With a string of 2016 dates on the books, the band is excited to start the next decade with Jody Elmore."
For more information on Breaking Grass, please visit www.breakinggrass.com [1].