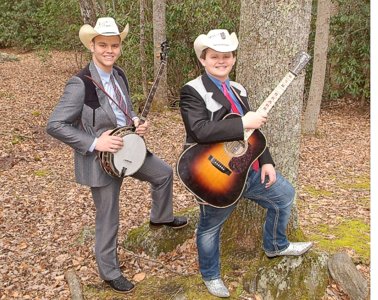 Saturday, December 19th, 2015, at 7:30 p.m. the Carter Family Fold in Hiltons, Virginia, will present a special Christmas program. In lieu of admission, please bring a donation of canned goods for the local food bank (suggested amount $10 per person). Those not bringing a canned goods donation are asked to make a donation of $10 for adults with all proceeds going to the Food Bank. Anyone under 12 will be admitted free of charge. Those attending are asked to bring finger foods, two-liter drinks, and cups, plates, or napkins. Christmas music will be performed as refreshments are served. Afterwards, we'll have music by Carolina Express. Musicians donate their time for this special Christmas show.
Carolina Express was formed by brothers Jonah and Grayson Riddle. Jonah is 16, and Grayson is 11. Growing up in the mountains of western North Carolina, Jonah has been playing the banjo for 4 and ½ years now. From the first time he picked up the instrument, he fell in love. He started out playing at church three times a week. Because he enjoys bluegrass and gospel music so much, he decided to start his own band – Jonah Riddle & Carolina Express. Jonah's brother, Grayson, plays guitar and does vocals. He has been playing guitar for almost 2 years. From the time he was only 5 years old, he would pick the guitar at church services. Jonah and Grayson credit the Lord for their playing and singing talent. Their dad, Benjie Riddle, plays the upright bass. The Riddles are bringing along an outstanding fiddle player – Mary Rachel Nalley – who plays fiddle for the Kody Norris Band.
Jonah and Grayson have had the privilege of picking on stage with many great artists – Doyle Lawson, Darin & Brooke Aldridge, Balsam Range, Ralph Stanley II, Nu Blue, Ricky Skaggs, J.D. Crowe, and Kody Norris – just to name a few. They have performed many concerts all across the U.S. The Ryman Auditorium Courtyard, the North Carolina State Fair in Raleigh, Woodsongs, the Lyric Theatre in Kentucky, Houstonfest, the Orchard at Altapass, the North Carolina State Bluegrass Festival, Bluegrass First Class in Asheville, North Carolina, the Earl Scruggs Center, the Pickin' Porch, and the Museum of Appalachia are just a few of the events and venues they have played. Members of Tomorrow's Bluegrass Start, they have performed at IBMA Kids on Bluegrass in Raleigh, North Carolina. They have won several awards during the time they have been performing such as Best of Show and individual awards for playing their instruments. The Carter Fold is excited to welcome Carolina Express for their first performance there, and we're very grateful to them for donating their time and talent to this special Christmas show.
Come out and join us at the Carter Family Fold for a special Appalachian Mountain Christmas celebration. It's a great opportunity to hear some of the best music our region has to offer and to support a good cause at the same time. More people than ever need assistance from our nation's food banks. Many of them simply don't have enough resources to help everyone in need. Help us make this a record year for the amount of canned goods donated. The A.P. Carter birthplace cabin will be specially decorated in the mountain Christmas tradition – including hand-strung garland. Spending time with us during our Christmas celebration will take you back to a time when the true meaning of the season wasn't lost in the commercial frenzy of modern-day Christmas.
Carter Family Memorial Music Center, Incorporated, is a nonprofit, rural arts organization established to preserve traditional, acoustic, mountain music. For further information on the center, go to http://www.carterfamilyfold.org [1]. Shows from the Carter Family Fold can be accessed on the internet at http://www.carterfoldshow.com [2].
Carter Music Center is part of the Crooked Road: Virginia's Heritage Music Trail. You can visit the Crooked Road Music Trail site at http://thecrookedroad.org [3]. Partial funding for programs at the center is provided by the Virginia Commission for the Arts and the National Endowment for the Arts. For recorded information on shows coming up at the Fold, call 276-386-6054. The Fold is on Facebook – page Carter Fold – and Twitter – Twitter @carterfoldinfo.