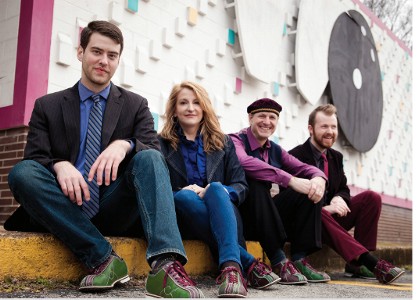 Three-Time IBMA Female Vocalist of the Year, Grammy nominee, Song of the Year winner and multi-award winning performer/songwriter Claire Lynch announced that she is taking a break from the road to dedicate more time to family and other aspects of her life. To that end, she is taking a break from touring. She did comment, however, "Just to clarify... I am touring through 2016. You heard it from the horse's mouth."
Earlier this year, Claire decided to focus on some new challenges. After the 2016 touring season, she plans to blaze another new trail in her life and career. Claire will be spring boarding from a strong, notable career into new territory, literally and figuratively.
She will continue with her music but wants to take on projects that being on the road just don't permit. She would like to creats a special website and would also like to spend more time with some teaching at music camps, writing and musical collaborations. Often called upon to lead singing and songwriting workshops, Lynch plans to seek more opportunities to mentor and champion young artists. Having produced or co-produced most of her own albums (thirteen to date), she has begun adding her creative touch to outside recording projects. She's also writing to expand her rich catalog of original tunes. In order to accomplish these things, she will have to give up touring.
Undoubtedly, Claire will have the support of one very special fan as she formulates her new plan ... husband Ian Gray, now living in Ontario, Canada. The couple married last July during a brief break in Claire's hectic schedule and Ian's summer reprieve from teaching for the Toronto District School Board. Part of Claire's new story will include plenty of time enjoying this new chapter in her life as a happy newlywed and integrating herself into the Canadian music community. "In point of fact, I've been discovering the wealth of great songwriting from the land to the north. My plan is to have the next (and perhaps final) recording by The Claire Lynch Band dedicated to songs from Canadian writers – interpreted our way, of course!"
"I love my fans and friends around the world too much to just disappear," Claire asserts. "This is not an end by any means. It may be just the beginning for some of my greatest work." Still, a little honeymoon may be in order for the time being.