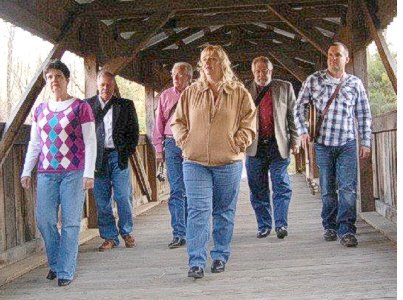 Hiltons, VA -- As long as bluegrass music has echoed through the hills and valleys of the Appalachian region, musicians of all ages have gathered together to play and preserve their favorite style of music. This southwestern Virginia group showcases the traditional songs of yesterday, along with the driving sound of a modern style. The group began doing back porch picking and performing at local events seven years ago. Town Branch Bluegrass is now one of the region's hottest new bands. Saturday, December 5th, 2015, at 7:30 p.m. the Carter Family Fold in Hiltons, Virginia, will present a concert by the Town Branch Bluegrass band.
The group features Brandon Elkins on banjo, Bill Newman on mandolin, Peggy Ely on bass, Shirley Smith on vocals, and Jack and Wayne Bonham on guitar and vocals. For further information on the band, go to www.TownBranchBluegrass.com [1].
For a night of some of the best bluegrass music the region has to offer, don't miss Town Branch Bluegrass band at the Carter Family Fold. Be sure to bring your friends along, and don't forget your dancing shoes! Town Branch Bluegrass Band has become a Carter Fold favorite, and their concert will be a night of family, down-home fun. Come on out and join us!
Admission to the concert is $10 for adults, $1 for children 6 to 11, under age 6 free. Carter Family Memorial Music Center, Incorporated, is a nonprofit, rural arts organization established to preserve traditional, acoustic, mountain music. For further information on the center, go to http://www.carterfamilyfold.org [2]. Shows from the Carter Family Fold can be accessed on the internet at http://www.carterfoldshow.com [3].
Carter Music Center is part of the Crooked Road: Virginia's Heritage Music Trail. You can visit the Crooked Road Music Trail site at http://thecrookedroad.org [4]. Partial funding for programs at the center is provided by the Virginia Commission for the Arts and the National Endowment for the Arts. For more information on Saturday's concert, contact the Mountain Music Museum at 276-645-0035. For recorded information on shows coming up at the Fold, call 276-386-6054.