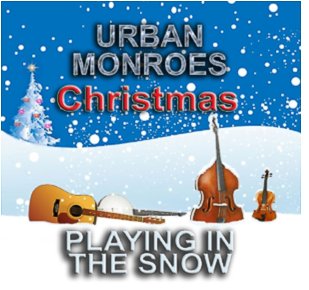 The Urban Monroes have released a brief, light-hearted movie/video about their latest Holiday release
Playing in the Snow
. It talks about some of the details involved in making the CD and includes music excerpts, album art and some fun stuff.
Playing in the Snow is a six-song collection of Christmas done Urban Monroes style. The band's fourth album, it is preceded by three full-length CD's and closely follows the release of a pair of summertime singles, "On My Way" and "William's Still Alive." The mix of traditional and original tracks spans a range from "Hark the Herald Angels Sing" to "Mr. Grinch" and packs a big side of Yuletide into a small package. Playing in the Snow is collection of a few of the band's Christmas favorites plus a couple of originals for the season. So shine up your jingle bells and watch out for reindeer crossings, Christmas-time's a'coming.
Playing in the Snow is now available for DJ's to download at Airplay Direct [1] with physical copies available from the band at www.UrbanMonroes.com [2]. For anyone wishing to purchase the album, it is available for download through iTunes [3], Amazon, and CD Baby. Listen for it on Pandora in the coming weeks.
We've all seen Christmas offerings crowding the aisles since before the big bags of fun sized candy bars made their first appearance, but the Urban Monroes wanted this year's crop of ghouls and goblins to clear out before announcing the album's release. After all, now that the trick or treating is done, it's time to think about Playing in the Snow.
Fashioned from the heart of tradition and infused with adrenaline, the Urban Monroes' bluegrass style combines the skills of some of the Pacific Northwest's finest talent. Fast-paced and highly energetic, the band performs both original and traditional bluegrass with a style and delivery uniquely its own.