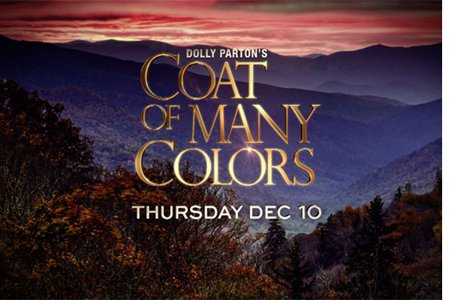 Nashville, TN -- There won't be a dry eye around the television when "Dolly Parton's Coat of Many Colors" airs December 10 on NBC. Parton and NBC released a three-minute preview of the upcoming TV-movie based on the Country Music Hall of Famer's 1971 hit "Coat of Many Colors."
"My favorite song that I've ever written tells a true story from my childhood about a little coat that my mama made for me," Parton said while introducing the clip. Parton's mother initially sewed the the jacket as a blanket for her unborn baby, but she reworked the piece for her youngest daughter.
Based on the inspiring true story of living legend Dolly Parton's remarkable upbringing, this once-in-a-lifetime movie special takes us inside the tight-knit Parton family as they struggle to overcome devastating tragedy and discover the healing power of love, faith and a raggedy patchwork coat that helped make Dolly who she is today. Over the years, many have attempted to bring this story to life, and now, finally, fans across America can experience the heartwarming tale of a courageous nine-year-old girl from Tennessee and the loving family that taught her the power of inner strength.
 -- Storyline written by NBC
The upcoming primetime special, which showcases Jennifer Nettles in the role of Parton's mother, Avie, was inspired by a series of events Parton endured when she was 9 years old growing up in East Tennessee's Great Smoky Mountains.
The family-oriented, faith-based movie profiles the loss of Parton's unborn sibling, the family struggles to keep it together while grieving and the bullying the 9-year-old endured when other children criticized the quilted coated.
As one of the executive producers, Parton herself was very hands on in the making of the film – especially when it came to casting her family members.
"She told me, 'I loved your little eyes," says Lind of auditioning in front of Parton.
Jennifer Nettles plays Parton's mom, Avie Lee Parton, and Ricky Schroder plays her dad, Robert Lee Parton.
"Dolly Parton's Coat of Many Colors" is the first in a series of television movies developed by Parton that are expected to be released through 2016. "Dolly Parton's Coat of Many Colors" airs Dec. 10 at 8 p.m. CST / 9 p.m. ET on NBC.