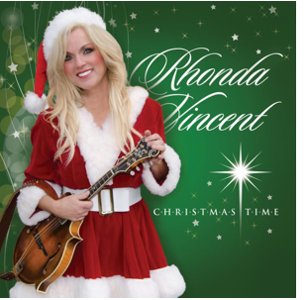 Nashville, TN -- It may only be November, but Christmas Time is upon us, as Rhonda Vincent's latest album debuts at No. 2 on the Billboard Bluegrass Albums chart. The star-studded project features vocal collaborations with The Oak Ridge Boys, Willie Nelson, Charlie Daniels, Bill Anderson, Dolly Parton, Ronnie Milsap, Gene Watson, Lorrie Morgan, and more (see track listing below). Christmas Time is available now at digital retailers and wherever music is sold.
"Wow, it's amazing to hear we are on three Billboard Charts in the first week of the Christmas release," said a humble Rhonda Vincent about her project, which also charted on the Billboard Top Current Country and Billboard Seasonal chart. "We're not even into the season yet, so I hope this continues through Christmas Day!"
Vincent will be featured on RFD-TV's "Rural Evening News" on November 20 at 6:30pm/CT (check local listings). The show focuses on each day's news surrounding agriculture and markets from across the world.Be sure to tune in as the reigning International Bluegrass Music Association's (IBMA) "Female Vocalist of the Year" talks about what it was like recording the project, along with some fun behind-the-scenes stories.
Be sure to tune-in next Tuesday, November 17, as Vincent makes a special appearance on the legendary Grand Ole Opry. Fans can listen LIVE at wsmonline.com as the bluegrass singer performs songs off of her latest Christmas album.
One of the key highlights on Christmas Time is a celebrity version of "Twelve Days of Christmas," which has a lineup that you have to hear to believe. Each featured artist brings their own flare to the track to elevate the holiday classic. Fans will also be singing along all season long to four tracks on the album penned by Vincent.
Christmas Time Track Listing:
"Dreaming of Christmas" - Written by Rhonda Vincent
"God Rest Ye Merry Gentlemen"
"Twelve Days of Christmas" (Featuring The Oak Ridge Boys, Willie Nelson, Charlie Daniels, Bill Anderson, Dolly Parton, Ronnie Milsap, Gene Watson, Larry Gatlin, Jeannie Seely, Lorrie Morgan, Pam Tillis, and EmiSunshine)
"Angels We Have Heard On High"
"Milk & Cookies" - Written by Rhonda Vincent
"Christmas Time" - Written by Rhonda Vincent
"Christmas Time At Home" - Written by Rhonda Vincent
"Away In A Manger"
"Jingle Bells"
"Silent Night"
"O Little Town of Bethlehem"
"Christmas Medley" (What Child Is This, We Three Kings, It Came Upon The Midnight Clear, O Come All Ye Faithful, The First Noel, O Holy Night, Hark The Herald Angels Sing)
Rhonda Vincent, dubbed "The New Queen of Bluegrass" by the Wall Street Journal, began her musical journey at the age of three, performing alongside her family members on what was called The Sally Mountain Show. She sang bluegrass as a teenager, then recorded a couple of mainstream country albums in the 1990's, when makeup artists cared more about her looks than her sound. She was asked if she could "get the bluegrass out of her voice." Confused and heartbroken, she put together her first bluegrass band, and found the most natural approach to her music was in the bluegrass realm.
In addition to being the most award winning band in Bluegrass music history, alongside her band The Rage, totaling over 100 awards, Vincent has also performed and recorded with the best of the best, including Dolly Parton, Willie Nelson, Keith Urban, Alan Jackson, Faith Hill, Martina McBride, Daryle Singletary, Richard Marx, Hank Williams Jr and more. While being a 15-time "Entertainer of the Year," Vincent has established herself as one of the most visible, best-selling artists in the genre, whose cross-over appeal stretches well into the mainstream media. For more information visit www.rhondavincent.com [1].