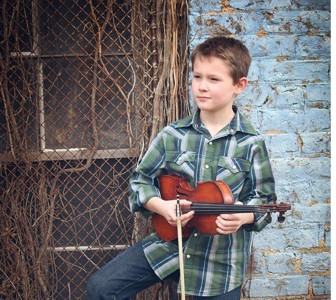 Hiltons, VA -- Carson Peters, or "Fiddlin' Carson Peters," as he is becoming known, started playing fiddle at the ripe old age of three when his parents bought him a 1/8 size fiddle. By age four, he was playing in fiddle competitions and jamming at musical festivals. Carson has continued to hone the fiddling and singing talents that God so graciously blessed him with and has won many competitions along the way. Saturday, November 14th, 2015, at 7:30 p.m., the Carter Family Fold in Hiltons, Virginia, will present a concert by the Fiddlin' Carson Peters Band.
At eleven years old, Carson is a seasoned performer – playing numerous venues with his band throughout the region – Bristol's Rhythm and Roots, Dollywood's Bluegrass and BBQ, Asheville's Bluegrass First Class, Song of the Mountains, the Carter Family Fold, and WDVX's World Class Bluegrass concert series to name a few. Carson has also had the honor to play on national TV as a guest on NBC's the Tonight Show with Jay Leno as well as playing with Jimmy Fortune on the floor of the Tennessee State Senate. On March 28th of 2014, Carson's dream of playing on the Grand Ole Opry stage was realized when he was invited by Ricky Skaggs to come and perform with him and Kentucky Thunder. In May of 2014, Carson was asked to make a reappearance at the Opry, but this time with his own band. On July 31st, 2014, Carson made his Ryman Auditorium debut playing with Ricky Skaggs during the 2014 Bluegrass Nights series.
Carson says winning trophies and getting your name in the newspaper is "really cool," but that is not the main reason he works so hard at his music. "It's all about using the talent GOD gave me to make people smile," he says. Carson truly loves to entertain people!
Carson has been blessed to have a great band to help him entertain audiences at local venues around the region performing old-time, bluegrass, and gospel music. The band consists of Tom and Bobbie Dier from Green County, Tennessee, and Carson's father Jamie Peters. Tom plays the bass or "big fiddle" as Carson calls it. In addition to playing a great bass for the band, Tom is also a writer and loves to farm on their property in Greene County. Bobbie is a musician of many talents and has been an avid bluegrass and old time music fan for many years. Besides playing the mandolin for over thirty years, she also plays banjo, guitar, and mountain dulcimer. Bobbie participated in the ETSU Bluegrass program as well. The rhythm guitar in the band is played by Carson's father, Jamie. He has loved bluegrass since starting to play guitar at age eight. After a long break from playing, his love for pickin' was reignited when Carson began playing. In any spare time, Jamie also loves restoring and driving old muscle cars. Carson is truly blessed to have these fine Christian musicians in his band.
In addition to entertaining with his band, Carson plays music with his special friends, Howard and Vivian Hammonds, and their fine gospel group, Headed Home, in churches around the region. He also frequently visits area nursing homes as well as the VA Hospital in Johnson City.
When he's not "fiddlin' around," he is just an ordinary country boy who enjoys sports, hunting, riding his four wheeler, and going to church. He and his family live in Piney Flats, Tennessee. Be prepared to be amazed by Carson Peters. His talent and stage presence rivals that of the most seasoned of performers. Dancers won't be disappointed because he's as fine a fiddler as any that ever graced the stage of the Carter Fold. There will also be beautiful vocals and gospel music – something for everyone. For more information on the Fiddlin' Carson Peters Band, go to http://fiddlincarsonpeters.com/ [1].
Saturday, November 14th, 2015, at 7:30 p.m., the Carter Family Fold in Hiltons, Virginia, will present a concert by the Fiddlin' Carson Peters Band. Admission to the concert is $10 for adults, children 6 to 11 $1, under age 6 free.
Carter Family Memorial Music Center, Incorporated, is a nonprofit, rural arts organization established to preserve traditional, acoustic, mountain music. For further information on the center, go to http://www.carterfamilyfold.org [2]. Shows from the Carter Family Fold can be accessed on the internet at http://www.carterfoldshow.com [3].
Carter Music Center is part of the Crooked Road: Virginia's Heritage Music Trail. You can visit the Crooked Road Music Trail site at http://thecrookedroad.org [4]. Partial funding for programs at the center is provided by the Virginia Commission for the Arts and the National Endowment for the Arts. For recorded information on shows coming up at the Fold, call 276-386-6054. The Fold is on Facebook – page Carter Fold – and Twitter – @carterfoldinfo.