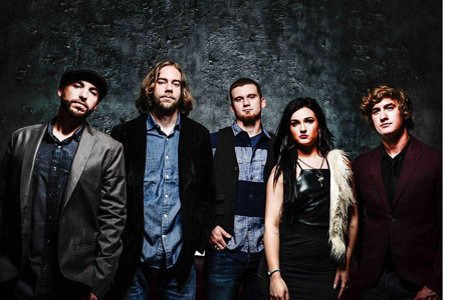 Mountain Heart has been a Bluegrass Underground favorite almost from the start. Like us, they're "a little bit bluegrass, a little bit underground." Deeply rooted in tradition, they've always been fearless in adding new genres to the mix, creating the kind of high-energy show that makes diehard bluegrass fans out of people who didn't know they even liked bluegrass.
They were part of our very first PBS season, taped on an unforgettable day back in 2010 that included Ricky Skaggs & Kentucky Thunder and Cherryholmes. Ricky can't make it on Nov. 21, when Mountain Heart heads back to the Volcano Room, but they're bringing along a bona fide Cherryholmes, the singing, dancing, fiddling Molly Cherryholmes, who has replaced longtime bandmember Jim Van Cleves.
Founding member Barry Abernathy has also left the band, resulting in the band's red-hot multi-instrumentalists picking up the slack, as flatpicking whiz Seth Taylor handles the five-string when he puts down the guitar, while mandolinist Aaron Ramsey picks up the bass when bassist Jeff Partin plays reso guitar. It makes for even more activity onstage than we're used to with the always-in-motion Mountain Heart. And of course, singer/guitarist Josh Shilling will drop his dreadnought to sit at the keyboards and rock out on his trademark take on the Allmans' "Whipping Post."
"We might go hardcore jazz on you for 10 minutes; then do a gospel quartet number; and then do something as hardcore bluegrass as 'Blue Moon of Kentucky'," he says. And while he misses his old band buds, Shilling's excited by the new lineup, toughened after a summer of playing festivals. He's especially likes having another versatile lead voice onstage.
"Adding another singer to the band has just amped up and multiplied everything that we've always done," Shilling says. "In the past, it was all guys, so all the high-tenor parts were up to me. Molly can grab the high part and take a big load off my shoulders. And it's not like she's just a harmony singer. She's a fantastic lead vocalist. Plus, adding a female to the band, there's a really nice guy/girl dynamic, like if we're singing a love song or a duet. There's a really cool feeling about watching a guy and girl sing that."
And while you can expect "Whipping Post" at the Volcano Room, Shilling promises a bunch of new music at their Nov. 21 BGU show, songs they recorded for their 2016 debut on Nashville's Compass Records, a label that, like Mountain Heart, fearlessly crosses genres. The CD will be 11 songs, plus a hidden track, with most of the material written by members of Mountain Heart in what will be their first new album in more than five years.
And speaking of new, you can't get much newer than the opening act, Emilie Sunshine Hamilton, better known as EmiSunshine. If you're never heard the Madisonville, Tenn., native before, I hesitate saying anything more. She really should be a surprise. Just stop right now. I mean it.
OK, spoiler alert!
This 10 year-old blues and honky tonk belter will make you believe in reincarnation. From hardcore country to vaudeville torch songs, Emi has been stunning audiences for years. She's been performing since the age of 3 and wrote her first song at 5. You'll be amazed, I promise. And extremely disappointed in your own children.
Speaking of which, Riders in the Sky's holiday show comes to BGU on Dec. 19. And if you buy tickets to either of the last two BGU shows of 2015 , you'll have first shot at the Bluegrass Underground PBS taping in April, 2016.
Those are our toughest tickets to get, selling out in just a few minutes. And don't forget our special Bucket List packages with preferred seating (that means real, real close) lodging, meals and special BGU swag bags.
Get here any way you can, and we'll see you Underground.