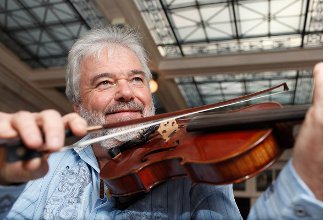 Hickory, NC -- Come Join Acoustic Stage on October 16, 2015 at their new location 734 1st Avenue SW, Hickory, North Carolina 28601 for Wyatt Rice and Rickie Simpkins. Wyatt Rice and Rickie Simpkins have been playing music together for nearly 30 years! This special concert combines Rice's stellar flat-picking with Simpkins' phenomenal fiddle playing.
Best known for the syncopated lyricism of his fiddle playing, Rickie Simpkins has been on the the go musically since his childhood days, building a catalog of recordings and appearances that testifies both to his creative flexibility as well as to his enduring roots in the classic bluegrass of his native Virginia. He has appeared on recordings in a variety of musical genres including Nils Lofgren, Ralph Stanley, Mary Chapin Carpenter, John Starling, Tony Rice, Chris Hillman, Herb Pedersen, Eddie from Ohio, The Issacs, Mike Auldridge and others.
Rickie has won many awards including SPBGMA's – "Fiddle Player of the Year", IBMA's – "Instrumental Group of the Year", 1991 & 1995 and Bluegrass Now's – "Fan's Choice Awards, Fiddle Player of the Year" in 1998. Rickie was inducted into the Virginia Folk Music Hall of Fame in 2008. Since 2007, Rickie has toured extensively with Emmylou Harris and Her Red Dirt Boys.
Fans of acoustic guitar music and Acoustic Stage should be well acquainted with Wyatt Rice. Wyatt and brother Larry performed at the very first Acoustic Stage show on December 12, 1992! Wyatt (as well as Rickie) has also appeared at Acoustic Stage as a member of the Tony Rice Unit many times. He began his career as an original member of the Unit where he played primarily rhythm guitar, although he had many opportunities for soloing as well. Wyatt has been featured on many recordings and videos, and has played countless gigs with the Tony Rice Unit. He played lead and rhythm guitar with his own band Wyatt Rice and Santa Cruz and with the Ronnie Bowman Committee.
Today, Wyatt works with a varied palette that includes teaching, recording, producing and performing. For more information an tickets, click here [1].