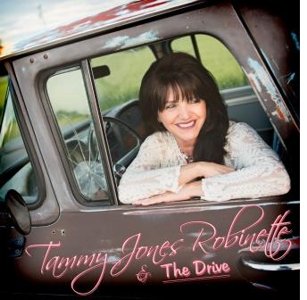 Nashville, TN -- Following the success of Tammy Jones Robinette's preview single, "To Be a Kid Again," Rural Rhythm Records is pleased to announce that it will release the full album, Tammy Jones Robinette & The Drive, on Friday, October 30. Recorded at Skaggs Place Studio and produced by Mark Fain (award-winning bass player and longtime band member of Kentucky Thunder) and engineered by Terry Thompson, the album is supported by a collection of superstar pickers, including Mark Fain (bass), Aubrey Haynie (fiddle), Ron Block (banjo), Seth Taylor (rhythm guitar), Rob Ickes (dobro) and the legendary Sam Bush (mandolin). Steve Gulley, Jamie Dailey, Jimmy Fortune, Dale Ann Bradley, Jennifer Wrinkle and David Casteel provide supporting vocals. Fortune is featured on "The Letters," one of four original tunes penned by Robinette on the 12-track project. Other writers include Steve Gulley, Ronnie Spriggs, Bobette Punches, Paul Overstreet, Brent Lamb, Larry Santiago, R.H. Cornelius and Larry Whitehead.
The album's preview single, "To Be a Kid Again," released in mid-August, entered the Bluegrass Today Weekly Airplay Chart at #10 and climbed to #6 just two weeks ago. The single also debuted at #17 on Bluegrass Today's Monthly Airplay Chart this week. Robinette's well-timed release is a celebratory, yet wistful reflection of the carefree, seemingly-endless summer play days of childhood and a fond farewell, for all of us, to another season.
Tammy's debut Bluegrass album, "Let It Shine," also produced by Fain and released in 2014, was warmly received by Bluegrass and Gospel critics alike, earning three entries for consideration in the initial nomination process by the IBMA.
While Tammy Jones Robinette is fairly new to Bluegrass circles, she is not new to the world of music. Last year, Robinette celebrated two consecutive Southern Gospel #1s as a songwriter and was named "Favorite Female Vocalist" at the Gospel Music Fan Awards. Despite her Gospel success, Robinette has felt driven by her muse to cultivate her Bluegrass roots planted so many years ago in her Kentucky upbringing. Her hope is that it will lead her Gospel fans to find a mutual love for Bluegrass music.
For more information on Tammy Jones Robinette & The Drive, please visit TammyJonesRobinetteandTheDrive.com [1].
Tammy Jones Robinette & The Drive Track Listing:
"To Be a Kid Again"
"I Think I'll Let You Drive"
"I've Got to Work on the Ark"
"The Letters" (Featuring Jimmy Fortune)
"There's a Record Book"
"Mama's in the Sweet By & By"
"Pages of Time"
"The Man in those Shoes"
"My Rock"
"Love God"
"The Colors That Never Ran"
"Oh I Want to See Him"