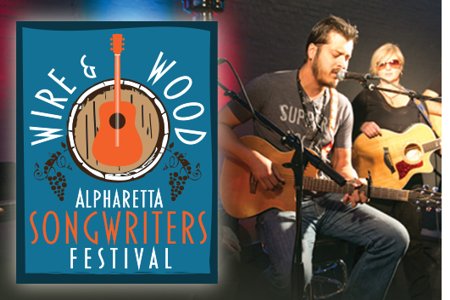 Alpharetta, GA -- Over 25 nationally recognized singer-songwriters will gather together for three days of concerts on three stages to perform their original songs. The Wire and Wood Songwriters Festival [1] will take place on Friday, October 16 from 5-10 p.m. and Saturday, October 17 from 3-10 p.m. in Alpharetta, Georgia. A free kickoff performance featuring Nashville-based award-winning singer songwriter Liz Longley and bluegrass-country-punk band The Whiskey Gentry will take place at Avalon on Thursday, October 15 from 6-8 p.m. Liz is touring in support of her debut self-titled Sugar Hill Records release.
The purchase of a $30 wristband will give patrons entry to both Friday and Saturday concerts. Kids 12 and under accompanied by an adult get in free.
Saturday's headliner, Edwin McCain, will perform with his full backing band. Best known for his Top 40 hits "I'll Be" and "I Could Not Ask for More", McCain now stars in his own cult hit TV show "Flipping Ships."
Acclaimed singer-songwriter Todd Snider has been added to the Friday night headliner stage. Snider cut his musical teeth in Memphis clubs where he was discovered and signed to Jimmy Buffet's label. Early touring and mentoring with John Prine and Jerry Jeff Walker led to a prolific recording and touring career for Snider. Rolling Stone, ranking a recent record in its annual Top 50 of the Year, called Snider "one of the sharpest, funniest storytellers in rock – Snider keeps the indictments coming."
Also added to the tour line-up is Elizabeth Cook, Grand Ole Opry regular and host of SiriusXM's Outlaw Country show, "Apron Strings". She has appeared on The Late Show with David Letterman four times and has been heralded by The New York Times as a "smart and surprising country singer" who is an "idiosyncratic traditionalist".
Internationally famous guitarist Tinsley Ellis will also perform with a full band and play what the Atlanta Journal Constitution has called a "potent, amazing trip through electric blues-rock." Guitar World has echoed this sentiment, stating flatly that Ellis stands alongside Stevie Ray Vaughn and Johnny Winter as one of the great blues writers and guitarists.
Rising stars Parker Millsap and Kelsey Waldon will make their first appearances at the festival. Millsap was named one of three "Emerging Artists of the Year" last year at the Americana Music Awards. The Washington Post heralded Waldon as "country's coolest young voice." Waldon, with her band, will conjure memories of many of the great country singers we all admire, while singing contemporary sounds that are all her own.
Everyone can look forward to Randall Bramblett with his virtuoso band members performing his brand new record release before he embarks on a national tour in support of it. Bramblett was an original member of Sea Level and has been a touring member of the bands of Steve Winwood, Gregg Allman, and Widespread Panic.
Angaleena Presley, a founding member of Pistol Annies (with Miranda Lambert and Ashley Monroe) and solo star in her own right, is touring behind her debut album "American Middle Class". Wire & Wood welcomes Chris Stills, son of Stephen Stills, who is flying in from Paris to perform his songs on guitar and piano on Friday and Saturday nights. Attendees will quickly find that sharp songwriting, guitar chops and rock-n-roll good looks are all in fact passed from one generation to the next in his case.
The following artists have been announced for performances on Friday and Saturday: Edwin McCain, Tinsley Ellis, Todd Snider, Randall Bramblett, Parker Millsap, Jim Lauderdale, Angaleena Presley, Chris Stills, Tommy Talton, Elizabeth Cook, Kim Richey, Kristy Lee, Kelsey Waldon, Peter Karp and Sue Foley, Joe Crookston, Daphne Willis, Davin McCoy, Hannah Thomas, Eliot Bronson, Friends of Lola, Wesley Cook, The Swear, Smokin' Novas and The Mosleys.
Music lovers will get a behind-the-scenes look at the stories that inspired country, rock, blues, Americana and bluegrass songs. Attendees will experience nationally recognized veteran songsmiths and local up-and-coming talent as music fills the streets of Alpharetta.
Tickets and more details are available at http://www.WireAndWoodAlpharetta.com [2]