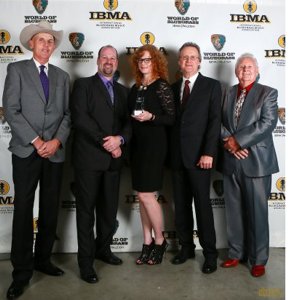 Becky Buller claimed three International Bluegrass Music Association (IBMA) Awards on Thursday, October 1st during the association's annual conference held in Raleigh, North Carolina. During the Special Awards luncheon, Buller was named the IBMA's Songwriter of the Year. Later that evening, Buller was awarded Emerging Artist of the Year and also Recorded Event of the Year for "Southern Flavor," a special performance with Bill Monroe's former Blue Grass Boys, Michael Feagan, Peter Rowan, Buddy Spicher, Ernie Sykes, Roland White, and Blake Williams and written by Monroe, DeWayne Mize and Guy Stevenson. Although Buller is a previous winner of an IBMA Award through her work with the Daughter of Bluegrass, these are her first IBMA accolades as a solo artist.
"I'm honored and scared and excited," states Buller. "This happens to my heroes! I love bluegrass music and am so honored that other folks are enjoying my interpretation of it. Thank you to my husband, Jeff and my daughter Romy for putting up with me and helping me pursue this dream. Thank you to the Blue Grass Boys who joined me on the recording of "Southern Flavor," to Guy Stevenson and DeWayne Mize for the lovely words, and to Stephen Mougin of Dark Shadow Recording for his hard work and faith in this project; this track was pure magic because of them. I'm feeling so blessed and grateful. God has brought me to a spacious place."
Buller's critically acclaimed album, Tween Earth and Sky has garnered much attention over the last year. The album was produced by Stephen Mougin for Dark Shadow Recording and has spent 11 months on the National Bluegrass Survey's Top 15 Albums and currently resides at #10.
For more information on Becky Buller, please visit www.beckybuller.com [1].