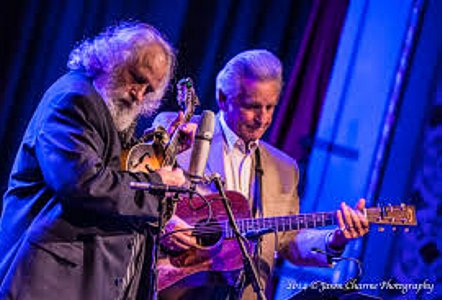 Brooklyn's newest music venue The Hall at MP will be launching its first series of American Roots music shows with three special performances: The Jeff Austin Band on Friday, November 6, Del & Dawg, the collaboration between bluegrass legends Del McCoury and David Grisman, on Saturday, November 7, and Della Mae on Wednesday, November 11.
Owned and operated by 2-time Michelin Star Celebrity Chef Michael Psilakis, the performances will be accompanied by a special food and drink menu. The Hall at MP is located at 470 Driggs St. in Williamsburg, just 3 blocks from the Bedford stop on the L Train.
On Friday, November 6 Mandolinist and founding member of Yonder Mountain String Band, Jeff Austin will showcase his electro-bluegrass combo. Celebrated for his fleet fingers and penchant for improvisation, Austin plans to continue songwriting for his solo project but might be weaving in a bit of mainstream, in the style of his John Scott Sherrill/Shawn Camp co-write "Fiddlin' Around," featured on Dierks Bentley's 2010 bluegrass album Up on the Ridge. "I love writing a three-minute song with a hook that would grab a five-hundred-pound marlin as much as I like writing something that goes, 'okay, after the bridge, it's going to open up and just go wide.
On Saturday, November 7, Del & Dawg will perform two intimate shows at 7pm and 10pm. Del McCoury met David Grisman met at the first show Del ever played (on banjo) with Bill Monroe in the spring of 1963 at New York University in Greenwich Village. Three years later, Del & Dawg played their first gig together in Troy, NY at the Rensselaer Polytechnic Institute. They both celebrated the arrival of first-born sons, Monroe Grisman and Ronnie McCoury, within a month of each other. Through the years they have shared the stage at venues and festivals across the country and released Hardcore Bluegrass, a collection of their studio jam sessions from the '90s.
Since its formation in 2009, all-female Nashville combo Della Mae (November 11) has established a reputation as a charismatic, Grammy-nominated, hard-touring live act, building a large and enthusiastic audience and critical acclaim with its first two albums. Produced by Jacquire King (Of Monsters and Men, Norah Jones, Dawes, Kings of Leon), their latest self-titled album on Rounder honors the band's roots in bluegrass, folk and rock. Della Mae will be joined by special guests Driftwood and Connor Kennedy & Minstrel.