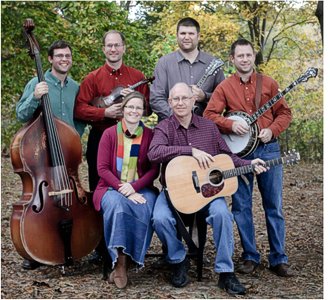 Just as it was for Earl Scruggs, music is part of the family for the performers at the Blue Ridge Music Trails "Traditions" Concert, set for Thursday, September 17, at 7 pm at the Earl Scruggs Center in Shelby, NC. This concert, "Family Traditions," showcases the talents of two family bands for whom the traditional music of the NC mountains and foothills has long been an integral part of their lives. One might say music is in their blood.
The concert is presented by the Blue Ridge National Heritage Area Partnership (BRNHA) as part of the Blue Ridge Music Trails Program. "Our Traditions concerts have become favorites of music lovers in our region because they not only share our traditional music, but also the history of how it came about," said Angie Chandler, Executive Director of the BRNHA.
The Cockman Family

Since launching their performing career in February of 1988, the Cockman Family has developed the classic family harmonies and youthful flair that has become their trademark. Their unique bluegrass gospel style, original songs and original arrangements of the old gospel songs are immensely popular with their audiences, and they have won numerous awards. The family ties of this three-generation group are strong, and the warmth of that is conveyed in their performances. The Cockman Family was awarded the 2011 North Carolina Community Traditions Award, given by the North Carolina Folklore Society which recognizes contributions and appreciation of state folk life. The North Carolina Arts Council chose the Cockman Family for inclusion in its selective North Carolina Touring and Resident Artist Directory.

The Moore Brothers Band

Many folks are surprised at how young the musicians are when they first see Jacob Moore, 17, (mandolin, mandostrat, banjo, & fiddle), Isaac Moore, 13, (acoustic & electric guitar) and Daniel Perry, 21, (upright and electric bass). Don't let their fresh faces fool you; this trio means business. Together, they weave a musical tapestry that honors tradition and welcomes progress, melding a love of tone and harmonies with a fiery stage energy. This is one of those once-in-a-generation groups for whom the phrase, "roots & wings" was invented –simultaneously traditional and progressive, hot while being on the verge of old-timey, almost flashy while being tied to the mountains. They all started with grandparents and parents performing at family gatherings.
J.T. Scruggs, nephew to Earl Scruggs, will emcee the show. Tickets are $15 for adults, $10 for kids 17 and under, and can be purchased from the Earl Scruggs Center. Call 704-487-6233. Parking is available around the square, in nearby public lots and at the Central United Methodist Church. Discount exhibit admission tickets are available to concert ticket holders.
Tickets are just $15 for adults, $10 for kids 17 years of age and under. Tickets can be purchased at the Earl Scruggs Center, or call 704-487-6233. Parking is available around the square, in nearby public lots and at the Central United Methodist. Buy your tickets here [1].