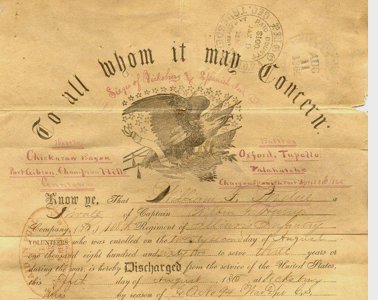 For the past four years the U.S. has been involved in the Sesquicentennial of the Civil War, remembering both the heroic and the horrible of the country's deadliest conflict. The 150th anniversary rightly spawned numerous books, movies, documentaries, podcasts, and songs. It was an age worn piece of paper from a different, but related anniversary however, that inspired the Urban Monroes' latest single release.
Found in the midst of her family's treasures and trash, the Urban Monroes' Fran Kent uncovered a century and half old document. Dating from August 1865 and bearing her great-great-great-grandfather's name, it was a discharge paper from the 108th Illinois Infantry of the Union Army. William F. Perdue had served three years and was now only 19 as he received his final pay and was sent on his way back home from Vicksburg, Mississippi. Added in red ink at the top of the page, was the list of 11 battles he had both fought in and survived. This piece of paper cemented Fran's relationship to an ancestor she never knew and moved her to write about it and about him on the 150th anniversary of his discharge.
The song entitled "William's Still Alive" is about both the discovery of the discharge papers and the realization of the life it represents. The song will be on the band's forthcoming CD, but has already been released to DJ's through Airplay Direct at the following url www.airplaydirect.com/urbanmonroes [1] as well as through the band's website: www.urbanmonroes.com [2]. Anyone interested in seeing the actual discharge papers can do so at the band's Facebook page: www.facebook.com/urbanmonroes [3].