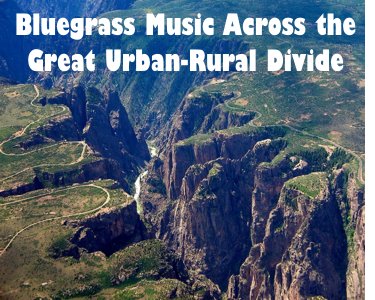 Bluegrass Music is facing a unique challenge. Here is a genre that was spawned in the Appalachian Mountains of poor immigrants who worked the mines, mills, factories and fields of the region. People existing through the Great Depression. The primary form of entertainment was entertaining themselves with music played on the front porches of the cabins in the hills and hollows. Stringed instruments comprising guitars, banjos an occasional mandolin and such. This is the true roots of bluegrass and old-time music. Based on hard work, family, church and rural living.
Their songs reflected their lives in these primarily rural settings. Rain on tin roofs, floods along the rivers, the making of moonshine in the hills, simpler times, the Blue Ridge, cabins of any type and location, dirt roads, mules, rural places of no significance, the civil war and others. What their songs didn't reflect was city life. Nothing about shopping in the city. Their clothes came from cloth flour sacks instead. Nothing about big yellow school buses as most never went to school. Not a word about fancy cars, night life and such. If anything came around regarding cities it would be the trains that dropped off folks and picked them up.
There is a massive divide between urban and rural living. Just as in politics, the left and the right never agree on much, the same is true with rural and urban dwellers. The chasm is deep and wide. If one writes a song about rural living such as The Fabulous Bagasse Boyz song "Day After Day," when they talk about "chickens lookin' for something to do", only a person who's been around barnyard chickens would understand. Hoeing a line straight behind the plow means little to those whose entire existence has been in a city.
One of bluegrass music's branches reaches into gospel and legends like Doyle Lawson have made a very successful career of this. Doyle Lawson & Quicksilver have won awards in both bluegrass and gospel year after year after year. This is a band that has found a niche that they honestly fill quite well.
Today, Bluegrass is seeking a broader audience and wants to bring more people into their audience. Bluegrass songs, for the most part, aren't city songs yet, those the music seeks to entice into their fold are city people. The great dilemma is born. How do we bring people into the music, keep the music traditional in nature and yet relate to those who have no experience with the theme of the songs? Not an easy task. Most city people aren't too interested in chickens, coal trains, run down cabins with no utilities, and such.
How do you write a bluegrass song, keep to the roots of the music and have lyrics that are devoid of rural living? Sure, you can take the approach of pop-country of trucks, beer and chasing women but that isn't where bluegrass lives and it certainly is no part of nothin'. Sure, you can write about dogs as Cedar Hill's tear-jerker "Echo Mountain" did but, that song didn't receive a lot of airplay. It was just too emotional. Just what does city life offer to write great traditional bluegrass songs about? Suburbs and cul-de-sacs, crime and congestion, home owners associations and covenants, cars speeding, shopping malls, or maybe Wal-Mart? Frankly, there isn't much that touches traditional roots and urban living.
To start off, we expose bluegrass in a new way to city folks. New Grass, Psycho Grass, and other alternatives to bluegrass. It doesn't sound like bluegrass but probably uses the same instruments. Electrify the instruments, add drums and bring on the big state lighting. While this may expose that audience to something between rock music and bluegrass music, it isn't the same thing as exposing them to bluegrass music in its natural, organic and pure form. Now we need song lyrics that are something our urban listeners can relate to.
Some bands have taken hits from the past and bluegrassed them like The HillBenders recent "Tommy" rock opera, "The Who's TOMMY: A Bluegrass Opry." This is definitely music generations of city people can instantly relate to. Others have taken individual songs and done the same thing. The Cache Valley Drifters were early innovators in this area. Today more bands are doing their best to find new material to attract a new audience. What makes the task difficult is that the artists want to maintain the rural roots of the music's traditional sound and find a bridge to the other side of the great divide between urban and rural life.
The challenge is real. A bigger audience should equate to higher revenues for bands. Bluegrass was born in 1939 by Bill Monroe, according to common historians. That was over 3/4 of a century ago. It is probably about time to bring some newer concepts into the music to make it more contemporary. Those could be urban or rural in nature but the music needs more hooks into those who haven't experienced rural life. It can and is being done. I don't, however, believe a lot of attention to the detail is planned -- it just sort of happens. Even the founders of the genre, including Monroe himself, moved forward with the times. They moved forward with tradition and kept the theme close to the music's roots. I think we can still do that and keep that authentic legendary style with a fresh coat of paint. Lets close the chasm and spread the music far and wide.