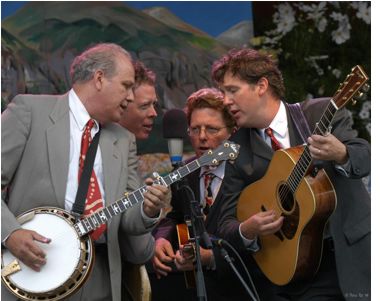 Hot Rize is releasing their new video for 'Your Light Leads Me On' filmed in the streets of New York City/Times Square with Mason Jar Music. Pete Wernick commented, "As the only native New York City boy in the group, very familiar with Times Square, it was wild and weird to be picking banjo there, plowing along through the curious onlookers, not to mention Batman, the Statue of Liberty, Disney characters, etc. The lights of the giant video billboards really contrast ironically with what the song is about... a lonesome driver saying to the moon, 'Your Light Leads Me On'."
Following the release of When I'm Free, Hot Rize will tour nationwide this fall and into 2015, sure to please not only longtime fans of the band, but countless new fans who've discovered bluegrass and Americana music in more recent times. Says Sutton, "Nobody's been a bigger Hot Rize fan than me, and that's a perspective I've tried to maintain as a member of the band. I'm excited about this new record, and I can't wait to introduce new fans to the Hot Rize experience."
Here is the video for "Your Light Leads Me On"...

The band released another video, "A Cowboy's Life [1]" a few months ago. That video presented a clear juxtaposition between the city views of New York and the performance of a more traditional bluegrass group.
Here is their first video for "A Cowboy's Life"...

With writing and rehearsals placing Hot Rize firmly back in their groove, recording When I'm Free took just five days at the solar-powered Studio at eTown Hall in Boulder. The musicians eschewed booths and headphones in favor of sitting in a circle and recording live off the floor – "the first time I've recorded like that since 1971," muses Wernick. This organic approach resulted in an album that crackles with the energy of a Hot Rize live show, even if the band's Western Swing alter-ego sidekicks, Red Knuckles & The Trailblazers, aren't present.