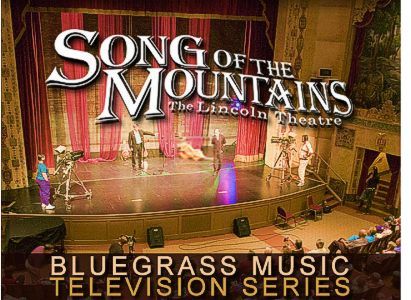 Marion, VA 17 August 2015 – On Friday, August 14, principals of The Lincoln Theatre in Marion, Virginia and Appalachian Music Heritage Foundation (AMH), a Marion-based non-profit corporation signed agreements officially transferring ownership of Song of the Mountains from The Lincoln to AMH. Under the agreement, AMH will rent The Lincoln Theatre for the Song of the Mountains monthly stage show and television production.
Song of the Mountains is a long-running stage show and nationally syndicated Public Television music series featuring Bluegrass, old-time, and Americana music. AMH is now responsible for the production of the stage show and the television series. The first show under the management of AMH will be held at The Lincoln on Saturday, September 5th. Tim White, the original host of Song of the Mountains, will return as the show's permanent host.
The Lincoln's newly installed President of the Theatre's Board of Directors, Dr. Dana Chamberlain, and the President of AMH, Joe Ellis signed the documents.
In an August 5 letter to the Friends of the Lincoln, a Theatre support group, Kristin Untied-Barnett, the Theatre's Executive Director, said of the sale, "The Board of Directors determined the best solution for the sustainability of both The Lincoln and Song of the Mountains is to separate the two entities. The change will be managed in such a way that ensures the program, which brings many tourists and national recognition to the theatre and the Town of Marion, will continue to operate from the Lincoln."
AMH's principals are Marion residents Joe Ellis, Ed Stringer, and Sam Russell. Ellis and Russell founded Song of the Mountains in 2003 and the first Song of the Mountains production was staged at The Lincoln in May of 2005. Tim White, the show's host and booking agent, was brought aboard in 2004. Ed Stringer, President and CEO of The Bank of Marion, was a supporter of the show from the beginning. In recognition of the potential for economic development in the Town of Marion and the surrounding area that The Lincoln/Song of the Mountains partnership would bring, The Bank became one of its first underwriters.
"We are very gratified that our sales and rental agreements have been finalized and signed," Sam Russell stated today. "This has been a long process, but both The Lincoln and AMH have worked hard to do what's best for the Theatre, the show, the Town of Marion, downtown businesses, and the legions of Song of the Mountains from all across America."