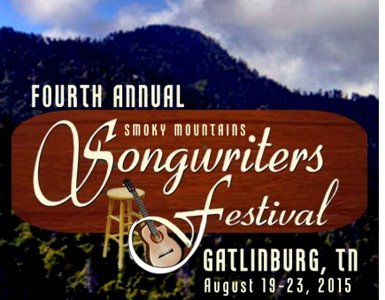 Gatlinburg, TN -- The sounds of some of the biggest hits in country, gospel and bluegrass music will resonate through the streets of Gatlinburg when Smoky Mountains Songwriters Festival comes to town August 19 through August 23. The festival will feature over 130 acts of songwriters and musicians who have shaped the top Billboard charts for generations as well as those just getting started in the music industry.
Headliners at this year's festival are Stella Parton of the legendary Parton Family and Benjy Gaither, son of Bill and Gloria Gaither, Scott Reeves from the ABC hit TV show Nashville, and a specially ticketed performance from 10-year-old singing sensation EmiSunshine, featured at The Grand Ole Opry and on the Today Show and currently on tour in the US.
The event, now in its fourth year, not only offers over 100 free concerts to music lovers who want to come and hear their favorite songs performed by the musicians who originally wrote them, but also provides aspiring artists and songwriters the chance to participate in co-writing events, songwriting workshops and critiquing sessions with hall of fame songwriters.
"This really is a music event unlike any other in the Southeast," said Festival Director and Founder, Cyndy Montgomery Reeves. "This festival offers the chance for people to come and hear their favorite songs performed by the original writers and learn the backstories and meanings behind the songs. It truly is a personal event with the writers."
This year's lineup includes hit songwriters: Country Music Hall of Fame writer Kim Williams, who has written hit songs for Garth Brooks, George Strait, Kenny Chesney and Reba McEntire - Mark Nesler, writer of "Just to See You Smile" by Tim McGraw -Danny Wells, writer of "Check Yes or No" by George Strait - Wil Nance, writer of "She's Everything" by Brad Paisley - Chris Wallin, writer of "Don't Blink" by Kenny Chesney - Bobby Tomberlin, writer of "One More Day" by Diamond Rio - Steve Dorff, writer of "I Cross My Heart" by George Strait -Tony Mullins, writer of "How Forever Feels" by Kenny Chesney. Those are just a few of the many songwriters performing at this year's festival.
Official sponsors for the 2015 Smoky Mountains Songwriters Festival are Sugarlands Distilling Company, The Historic Gatlinburg Inn, Crystelle Creek Restaurant & Grill, 107.7 WIVK FM, Sound Biscuit Productions, Smoky Mountain Money Savers, Gatlinburg Convention and Visitors Bureau, Bose, The Comedy Barn, Highland Brewing Company, Three Jimmy's Good Time Eatery, Cabins of the Smoky Mountains and Tom & Earl's Back Alley Grill.
Smoky Mountains Songwriters Festival is Wednesday, August 19 to Sunday, August 23. For more information or to find the complete schedule of live performances and workshops, visit http://www.smswf.com [1]. For more information on Gatlinburg and lodging, visit http://www.Gatlinburg.com [2] or call 800-588-1817.