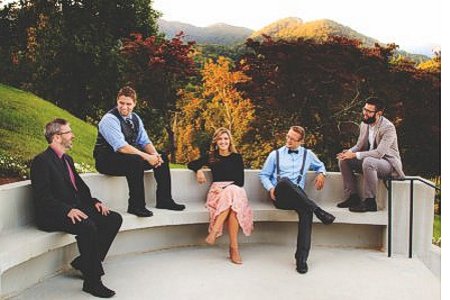 Willis, VA -- Mountain Fever Records recording artist, Mountain Faith has captured the hearts of America with their recent appearances on NBC Television's America's Got Talent. The North Carolina-based band is bringing bluegrass music to new audiences and the result is an overwhelming growth in the band's fans as well as support from within the bluegrass community.
Mountain Faith is Summer McMahan on fiddle and lead vocals, her brother Brayden on banjo, their dad Sam, on bass, with Luke Dotson on guitar, and Cory Piatt on mandolin. Together, the ensemble exudes excitement and an originality with their music that can only be topped by their humbleness. They first auditioned for producers of America's Got Talent earlier this year and have moved through two judges rounds successfully. The next step will be live performances before a studio audience at Radio City Music Hall in New York City where the television viewing audience will be able to cast their vote for Mountain Faith. "We are so excited and honored to represent bluegrass music on America's Got Talent," says Summer McMahan. "We want America to love bluegrass as much as we do!"
America's Got Talent Audition - "Counting Stars"

America's Got Talent Judge Cuts - "I Believe In A Thing Called Love"
The band is currently promoting their latest single, "Madam," which happens to be the song that garnered them an invitation to audition on America's Got Talent. The single is from their Mountain Fever Records album, Blue, which was released in November 2014.
"Madam" by Mountain Faith

Mountain Faith, an awarded, accomplished bluegrass group is based in the mountains of Sylva, North Carolina. They have been singing and traveling together for 14 years. Band members include Sam McMahan, on bass, Luke Dotson, guitar along with lead and harmony vocals, Corey Piatt on Mandolin, Summer McMahan, fiddle along with lead and harmony vocals and Brayden McMahan on banjo and harmony vocals. Mountain Faith has a unique style that offers a variety of different genres of music. Audiences applaud their ability to offer numerous styles. You will get a great mix of both traditional and contemporary bluegrass, classic and modern country, folk, acoustic and contemporary gospel and a little rhythm and blues! This band leaves a fresh, pure and upbeat impression on audiences of all ages.
They perform frequently at Dollywood becoming a crowd favorite over the years. They travel the bluegrass festival circuit, running alongside bluegrass' top bands, all over the United States and Canada. Concert venues include civic centers, auditoriums, arenas, fair grounds, parks, churches and other locations. Recent SPBGMA awards "raised eyebrows" and drew more recognition for the band as they were the only band to have all members, but one, nominated for instrumental awards. As you get to know the members of Mountain Faith, quickly their humbleness, kindness and love of people will be evident. They enjoy traveling and making new friends leaving lasting impressions!
Mountain Faith continues to tour and perform at events across the country despite their hectic taping schedule with AGT, and can be seen at the following venues this month: 8/6 Milan Bluegrass Festival - Milan, MI
8/7-9 Lake Itasca Family Music Festival - Lake Itasca, MN
8/14 Concerts on the Creek - Sylva, NC
8/15 Hamilton Life Center - Hamilton, IN
8/16 Refuge Baptist Church - Dana, NC
8/23 Lonesome Valley Chapel (10am) - Cashiers, NC
8/23 Balsam Baptist Church (6pm) - Balsam, NC
8/30 Coolray Field Gwinnett Braves Post Game Concert - Lawrenceville, GA
For more information on Mountain Faith including a complete performance schedule, please visit www.MountainFaithBand.com [1] and for more on Mountain Fever Records, visit www.MountainFever.com [2].