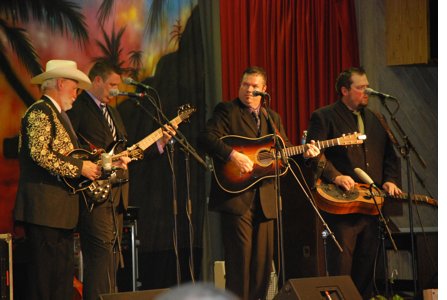 Myrtle Beach, SC -- Ocean Lakes Family Campground will host its 17th Annual Bluegrass Weekend on Friday, Aug. 28, and Saturday, Aug. 29. The festival is exclusive to guests of the campground. The weekend features activities for all ages, including live music from eight bands, a scavenger hunt, a mini-golf tournament and a golf car poker run. The first concert will begin on Friday at 4 p.m., with back-to-back bands performing until 10 p.m. Saturday's music begins earlier, with the first band performing at 2 p.m. Performances conclude at 9 p.m.
"Our guests really enjoy the Bluegrass weekends," said Barb Krumm, Director of Marketing and Public Relations at Ocean Lakes Family Campground. "This year we have a whole new line-up of some of the best in Bluegrass. We've brought in some fan favorites from years past, and we have three bands that are new to our 17-year history of performers. This weekend is always very popular, so we encourage our guests to purchase tickets soon."
All performances will be held in the 17,000 sq. ft. air-conditioned Recreation Building located just 180 ft. from the ocean, making it easy for guests to enjoy both the beach and entertainment throughout the day. Wristbands must be purchased and worn all weekend to allow access to all events. Wristbands include both days and can be purchased in advance for $45 per adult and $20 per child (ages 6-12, under 6 are free). Wristbands purchased at the door will be $50 for adults and $20 for children.
Bluegrass Entertainment Includes:

Doyle Lawson & Quicksilver

Formed in 1979 with nearly 40 albums to their credit, Doyle Lawson & Quicksilver are legendary in the Bluegrass genre. With a mix of Gospel and Bluegrass, the band is a crowd-pleaser having won "Vocal Group of the Year" by the IBMA, ICM, and SPGBMA, a total of 15 times.


Joe Mullin & Radio Ramblers

The band has an energetic mix of quality Bluegrass and Gospel music with a taste of down-home humor. Mullins won IMBA's "Emerging Artist of the Year" award in 2012 and has earned five IMBA awards along with three SPBGMA awards.


The SteelDrivers

A three-time Grammy nominee, the band was formed in 2005 out of Nashville, Tenn. Their soulful brand of Bluegrass has made them one of the most successful bands in contemporary Bluegrass. Their fourth album, "The Muscle Shoals Recordings," released in June, debuted at #1 on Billboard's Bluegrass Chart.


Darin & Brooke Aldridge

This husband and wife duo's rich harmonies make them one of the hottest young acts in acoustic music. They have received multiple nominations from the IBMA, SPGBMA and ICM.


Lorraine Jordan & Carolina Road

Formed in 1998, Lorraine Jordan & Carolina Road have a distinct sound and stage show which sets them apart from many traditional Bluegrass bands. The band has received multiple awards from SPBGMA in 2015, including "Entertainer of the Year," "Traditional Female Vocalist," "Banjo Player of the Year," and "Song of the Year" for "That's Kentucky."


The Farm Hands

Formed in 2011, this quartet has won dozens of awards during the past four years. In 2015, they were named Bluegrass music's "Gospel Band of the Year" at the Bluegrass Music Awards, and band member Tim Graves was inducted into the Bluegrass Music Hall of Fame.


A Deeper Shade of Blue

This up and coming band is native to North Carolina, and was formed by a father, son and friends. They consider themselves "Bluegrass down to the bone."


Mark Templeton & Pocket Change

This band mixes Bluegrass, Southern Gospel, Classic Country and Comedy. The band was awarded "Entertainer of the Year" by the Appalachian Cultural Music Association in 2014.
Tickets can be purchased online at http://www.oceanlakes.com [1] or by calling the ticket hotline at 843-828-4856. For more information on Ocean Lakes Family Campground please visit http://www.oceanlakes.com [1], follow on Twitter, or "like" the campground on Facebook.
Ocean Lakes Family Campground, a division of The Jackson Companies, is the largest campground on the East Coast and one of the largest in the United States. Located in Myrtle Beach, S.C., it has received numerous awards for excellence. It is the 2011-2012 National "Park of the Year" in the Mega Park category and has received that honor from the National Association of RV Parks and Campgrounds (ARVC) five times. In 2010, it received the Earth Day Award from the South Carolina Department of Health and Environmental Control for its iCare Program.
In 2006, Ocean Lakes received the prestigious South Carolina Governor's Cup for making a significant economic impact on South Carolina. Ocean Lakes covers 310 oceanfront acres with nearly one mile of beachfront. It offers 3,447 sites — 893 of which are large and pull-through to accommodate larger RVs. It was built by Mary Emily and Nelson Jackson and their five daughters, starting in 1970. It opened with 30 campsites and one bathhouse in 1971. On an average seasonal day, Ocean Lakes has 25,000 - 30,000 guests enjoying the countless amenities that have made it a local favorite and a national vacation destination. It currently holds a perfect 10/10*/10 rating from the Good Sam RV Travel Guide & Campground Directory for its overall operation, recreational offerings, services and appearance. This puts Ocean Lakes Family Campground in the Top 1% of the private campgrounds in North America. TripAdvisor awarded Ocean Lakes its 2015 "Certificate of Excellence."
Ocean Lakes Family Campground is a division of The Jackson Companies, a family-owned enterprise that includes Prestwick Golf & Country Club, Ocean Lakes Properties, Crystal Lake Mobile Home Village, Ocean Lakes RV Center, and the master-planned development SayeBrook.