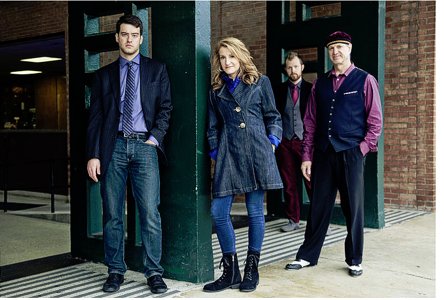 Nashville, TN --"Reno's Old Time Music" sizzles this August with performances from GRAMMY-nominated Claire Lynch, living legends Del McCoury Band and the indomitable Lonesome River Band. Superstar singer/songwriter Larry Cordle will entertain us with stories and song, and we will take a walk down memory lane with an archival performance from Reno & Smiley. It's one Hot Summer lineup you don't want do miss! For more information on "Reno's Old Time Music," please visit www.RonnieReno.com [1] and click on the TV Show tab.
"Reno's Old Time Music" airs weekly in prime time on Saturday night at 7:00 P.M. Eastern and on Thursday morning at 6:30 A.M. Eastern on RFD-TV and is sponsored by Derksen Portable Buildings and the Old Time Music Store (click HERE [2] for more information and for exact times in your area).
August 1-6: Claire Lynch

This musical pioneer captures the spirit of acoustic, country and bluegrass music like no other, and she continues to deliver today. As a creative singer and songwriter, Claire Lynch's contributions to Bluegrass have earned her two Grammy nominations, three IBMA Awards for Female Vocalist of the Year (along with multiple nominations), and in 2012, she was honored with the United States Artists Walker Fellowship. Claire's songs have been recorded by The Seldom Scene, Patty Loveless, Kathy Mattea, Cherryholmes, The Whites and others. Named by "Digital Journal" as "One of the 10 Best Angelic Voices of Our Time," Claire has toured as a backup vocalist for Dolly Parton and lent her vocal stylings to such artists as Emmylou Harris, Linda Ronstadt, Pam Tillis, Alison Brown, Patty Loveless, Kathy Mattea and Ralph Stanley. Most recently, she has appeared on albums by Donna the Buffalo, Sara Watkins, the Gibson Brothers, Jonathan Edwards and Jesse Winchester. From ballads to breakdowns, tune in to see Claire Lynch's effortless talents!

August 9-13: Del McCoury Band

With a prodigious 50-year history, legendary artist and original bluegrass all-star, Del McCoury, isn't stopping anytime soon! He parlayed his early experience with the late, great Master, Bill Monroe, into a spectacular career and built a name that is "household" within bluegrass circles. This elder statesman has been honored with numerous awards, including four IBMA Male Vocalist of the Year awards and induction as a member of the Grand Ole Opry in 2003. In 2008, McCoury launched the famed DelFest bluegrass music festival, and in June 2010, he received a National Heritage Fellowship Lifetime Achievement award from the National Endowment for the Arts. In 2011, he was elected into the International Bluegrass Music Hall of Fame. His legacy continues as the leader of Del McCoury Band, which is also comprised of his two of his sons, Ronnie and Rob McCoury, along with Alan Bartram and Jason Carter. In 1994, the quintet began an astonishing streak of top entertainer-of-the-year honors that would net nine trophies in an 11 year stretch--along with ongoing honors for Ronnie (eight consecutive Mandolin Player of the Year awards) and fiddler Jason Carter (three Fiddle Player of the Year trophies). In addition to three Grammy nods and two wins, the band has received a remarkable 31 IBMA awards, including Entertainer of the Year four consecutive times (nine total). Del-Heads and Del-Newbies are sure to enjoy this preeminent band's spellbinding performance!

August 15-20: Lonesome River Band

This contemporary bluegrass mainstay has cemented a long-term reputation as a cornerstone in the genre. Since their inception over thirty years ago, Lonesome River Band has had its fair share of roster changes, yet it has maintained consistency--always providing incredible music supported by a strong backbone of top bluegrass talent. Their music has resonated with fans and garnered a multitude of awards and nominations throughout the years. The band is currently led by the longest-running LRB member and banjo master, Sammy Shelor. As one of the most influential banjo players of this generation, Shelor is a Virginia Country Music Hall of Famer, and has been named Banjo Player of the Year five times by the IBMA and three times by SPBGMA. Additional members include a wealth of talent: Brandon Rickman (lead & harmony vocals and guitar); Mike Hartgrove (fiddle); Barry Reed (bass, harmony vocals); and newest member, Jesse Smathers (mandolin, lead & harmony vocals). In 2011, the award-winning group appeared on "David Letterman" and performed with Steve Martin. During this appearance, Martin awarded Shelor the 2nd Annual Steve Martin Prize for Excellence in Banjo and Bluegrass. Earlier this year, Mike Hartgrove and Sammy Shelor performed with actor Martin Short at the 43rd American Film Institute's Lifetime Achievement Awards and returned the honor, paying homage to Steve Martin. It's no wonder Lonesome River Band's loyal fan-base continues to grow today.

August 22-27: Reno & Smiley (Archival)

A treat for traditional country and bluegrass lovers, this vintage performance of Don Reno and Red Smiley hails from the archives of Reno's son, show host, Ronnie Reno. Singing "Nine Pound Hammer" from "The Reno and Smiley Show" circa 1963, you may notice the very talented Little Ronnie Reno at age 15. Join us as we take a look back at one of the most successful bluegrass duos and revisit 1960's classic bluegrass.

August 29- September 3: Larry Cordle

If you've listened to country and/or bluegrass music in the last 20 years, chances are you've heard many of Larry Cordle's #1 hits. Cordle dominated the charts as a songwriter, penning tunes for Ricky Skaggs, Garth Brooks, George Strait, Alan Jackson, Alison Krauss, The Osborne Brothers, Rhonda Vincent, Kenny Chesney, Reba McEntire, John Anderson, Trace Adkins, Diamond Rio and many others. At last count, Cordle's songs have contributed to albums that account for more than 55 million in record sales. Cordle's band, Lonesome Standard Time, was originally formed in 1990 but took a hiatus and eventually reformed in 1999. In 2000, when their signature album Murder on Music Row was released, the title track by the same name became a runaway hit and the album was nominated for a Grammy. "Murder on Music Row" took home Song of the Year at the IBMA and SPBGMA's awards, and Cordle was named Songwriter of the Year at SPBGMA. His exceptional canon of material, passion for music and recognizable tunes will have you singing from your sofa.
"Reno's Old Time Music" award-winning weekly music/talk show is the brainchild of Producer/Host Ronnie Reno, whose over-60-year career helped forge the sound and songs of so many legendary Bluegrass and Country Music entertainers, including Reno & Smiley, The Osborne Brothers, Merle Haggard, The Reno Brothers, Willie Nelson, Johnny Cash, Vassar Clements, Sammi Smith, Johnny Paycheck, Mac Wiseman and Conway Twitty, to name just a few.
Reno began airing his show in 1993 on another network as "Reno's Old Time Music Festival." It was the first and only national television show featuring Bluegrass and acoustic music and could be seen in 28 million households. Because of the show's rich music/talk format and Reno's influence in getting top-name guests, the show was a huge success, earning Reno a nomination for the prestigious Cable Ace Award for"Best Musical Series" and the nickname "The Dick Clark of Bluegrass."
Today, "Reno's Old Time Music" has nearly doubled its carriage with its transition to the RFD-TV network, reaching an estimated 47 million homes weekly and pulling an estimated 1.3 million monthly viewers. Although the name has changed slightly, the format remains largely the same, which includes performances by Ronnie Reno & The Reno Tradition and the weekly featured guest, an interview segment, the extremely popular "Super Pickers" segment and a sterling closing performance by the guest, who is joined by Reno on the Main Stage. Reno was honored with both the IBMA "Distinguished Achievement" (2006) and "Broadcaster of the Year" (2013) awards due to the continued success of the show.
Reno has recently released his first album in over a decade, Lessons Learned, on Rural Rhythm Records, available on iTunes, Amazon and wherever Bluegrass and Country music are sold. For more information on Ronnie Reno or "Reno's Old Time Music," please visit www.RonnieReno.com [1].