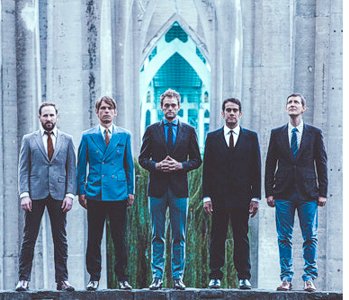 Six months into 2015. Musically, the sound has been coming in with quantity and quality neck and neck in the submission process. We have curated our picks for the Top 50 album of the year....so far. As always, the toughest part of the task was the decision. This list could have easily been 75 artists, and a hundred would not have been a stretch. Half of 2015 is in the rear view mirror but the soundtrack soundtrack is still playing out the car window as we roll down the highway.
Bluegrass music was well represented in the top 50 and found itself prominantly in the top ten, top twenty and the top twenty five lists. Leading the pack was Punch Brothers.
The Punch Brothers (from the album The Phosphorescent Blues 1-27-15) - That style that The Punch Brothers have nurtured is silhouetted against the soft glow of their recent T-Bone Burnett-produced release, The Phosphorescent Blues. The overall sound of the album brings is orchestrated Bluegrass. The magic of The Punch Brothers music is that they can appeal to diverse audiences from mainstream to deep Indie, Bluegrass purists and Americana torch-bearers. They are traditionalist innovators that encompass classical orchestral sweeps the blends with their mountain music on The Phosphorescent Blues.
In the number twelve spot, Della Mae (from the album Della Mae 5-12-15) - Della Mae fires its opening salvo with a pro-union and pro-women's rights song that demands 'pass me a match and we'll strike it on the ground, and we'll head back down to Boston town'. The women of Della Mae stand tall and proud as they challenge workers to take control of their lives and hold on to their dignity.
One we expected to be higher up was Number 21, The Hillbenders (from the album Tommy: A Bluegrass Opry 6-2-15) - The Hillbenders bring a new term to musical jargon with their take on 'whograss' as they revisit Tommy, A Rock Opera, the 1969 rock opus from The Who that spawned albums, Broadway shows, movies, and albums of covers. The Hillbenders' Tommy is completely familiar yet different as the band strip Tommy of his ability to hide behind rock bombasts, crescendos and anthemic chords. Tommy, a Bluegrass Opry creates a powerful foundation with its string base, making the story part of the music much like, ya know, bluegrass songs.