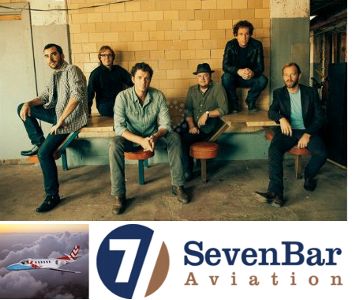 Rockland, ME -- Grammy award winning bluegrass sensations, the Steep Canyon Rangers play a special benefit performance at the Strand Theatre at 8 p.m. Nov. 12. The concert is part of their 'Hospitals and Hangars' tour and benefits LifeFlight of Maine.
It is presented by SevenBar Aviation and LifeFlight. SevenBar Aviation is a leading air medical provider with more than 65 years of experience delivering quality service in the aviation industry. They have more than 100,000 safe air medical flight hours, and nearly 40 years of air medical transport experience.
LifeFlight is a nonprofit medical helicopter provider, working towards making Maine a place in which every person, in every community, has access to critical care and medical transport when they need it.
In April, SevenBar became LifeFlight's aviation operator, providing highly trained pilots and mechanics, as well as FAA required certifications and licensing.
Earlier this year, the Steep Canyon Rangers announced the formation of a new partnership with SevenBar Aviation [1]. Central to the partnership are a series of 2015 fund raising concerts by the Steep Canyon Rangers entitled the 'Hospitals and Hangars Tour'. The tour will generate donations for healthcare organizations closely involved.
Betsy Casanave, SevenBar Aviation's Senior Vice President of Business Development and Strategic Services said: "We are extremely excited to grow our partnership with the Steep Canyon Rangers with this performance in Rockland, which will help raise awareness of the good work our partner organization LifeFlight is doing for the patients and families they serve each day with support from SevenBar Aviation. This concert is a great way to help benefit the critical and lifesaving work they do."
"It is an honor to be teaming up with SevenBar Aviation and to be a part of improving these patients' lives served by LifeFlight of Maine," said Steep Canyon Rangers banjoist and vocalist, Graham Sharp. "The guys and I can't wait to spend time with the LifeFlight team and their local healthcare partners, and to have our music play a role in supporting the lifesaving work they do each day."
Additional visits are planned to LifeFlight facilities and partner organizations while the band is in Maine for this concert.
The Steep Canyon Rangers started as a group of friends playing music together for fun, but after more than a dozen years together, they are instantly recognized as one of the most successful bluegrass bands touring today. Their recordings and dynamic live performances have earned them many accolades, including Grammy and IBMA Awards, but most important to them is the devotion of their fans.
The Steep Canyon Rangers are Woody Platt (guitar), Graham Sharp (banjo), Charles Humphrey (bass), Mike Guggino (mandolin), Nicky Sanders (fiddle) and Mike Ashworth (box kit). Seasoned and dynamic, they never fail to thrill their audience with instrumental dexterity and speed, compelling original songs, and the fun they obviously have on stage.
They tour between 125 and 150 dates per year, typically splitting their schedule between their own shows and sharing the stage with actor, comedian and respected banjo player Steve Martin. They have also recently shared a stage with Steve and Edie Brickell. Their new album RADIO, produced by Jerry Douglas, will be released on August 28th. For more information: steepcanyon.com
SevenBar Aviation offers medical flight services to a broad array of healthcare organizations throughout the nation. Committed to safety, excellence, performance and responsiveness in aviation for more than 60 years, we view each new client as an opportunity to prove once again that SevenBar Aviation is unmatched in giving our clients a competitive edge in their market. Our clients have a mission. Our job is to support it. For more information: 7bar.com
LifeFlight of Maine is an independent 501(c)(3) nonprofit air medical and critical care transport organization. LifeFlight brings lifesaving critical care professionals and equipment directly to the patient by both air and ground. It also provides advanced emergency medical training to Maine's hospitals, emergency medical services (EMS) and public safety agencies.
Overseen by 21 physicians, LifeFlight cared for more than 1,600 critically ill and injured patients last year. As a nonprofit organization, LifeFlight relies on support from individuals, foundations and businesses. Fundraising events like this concert are necessary to purchase aircraft and specialized medical equipment, and to offer advanced training to emergency medical providers across the state. Learn more at lifeflightmaine.org or call 207-230-7092.
Tickets for the performance are $35, and are now on sale at rocklandstrand.com. A special VIP package is also available, which includes an opportunity to meet with the band members before the show at Dowling Walsh Gallery in Rockland.