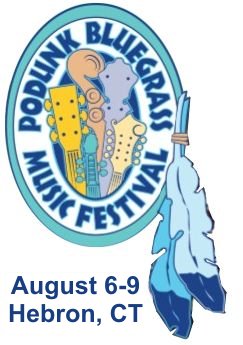 Hebron, CT -- The Podunk Bluegrass Music Festival has announced the three finalists for this year's songwriting competition as part of their 19th Annual festival. They have been invited to perform their song on the Main Stage at the festival on Saturday, August 8th. This year's competition received entries from as far away as Norway and nine different states including Arizona, California, Ohio, Virginia, Indiana and four New England States.
The finalists are: Eben Salter from Gales Ferry, CT with the song "Call of the Crow", Greg Blake from Conifer, CA with "50 Miles From Nowhere" and Geoff Bartley from Framingham, MA with "Sunny Side of Town". Each winner will receive a cash award plus gifts from Podunk.
Podunk also sponsors a band competition and a very exciting aspect of that contest for a songwriter is that the winning song will be performed by each finalist in the band competition. The songwriter and audience get to hear the winning song arranged in several different styles presented before the judges by four individual bluegrass groups who are the finalists in the Band Competition in 2016.
There is no greater satisfaction for a songwriter than to hear his or her self-penned song being performed by skilled and notable musicians. It also provides the opportunity for the bands to consider adding that song to their own tour repertoire. Perhaps it may even end up on someone's next CD.
The Podunk Festival, formerly in East Hartford has its new permanent home at the Lions fairgrounds in Hebron, CT. The festival starts Aug. 6 at 5:30 pm and ends Aug. 9 at 10:30 pm. In addition to the band and songwriter contests, it offers continuous bluegrass music by national headliners, a Kids Academy staffed by skilled music instructors, numerous workshops which are free to attendees, supervised activities for children, food and merchandise vendors, camping and lots of pickin' parties in the campground, all provided in a family-friendly atmosphere.
Read about ticket prices, camping options, host hotel and other details at the web site: www.podunkbluegass.com [1]. Info: 860-828-9818