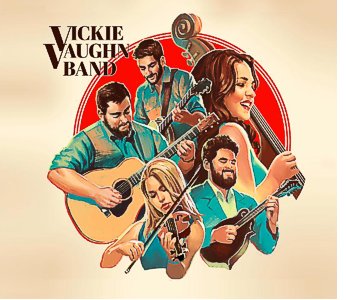 The Vickie Vaughn Band, of which Jon Weisberger (Chairman of IBMA) named "among the most promising of the younger bluegrass acts around," is set to release their debut six song EP (produced by Grammy-winner Ronnie McCoury) on September 25. The funky yet traditional 5 piece band is lead by the big-voiced, bass playing western Kentucky native, Vickie Vaughn. Her band is stellar and well rounded with Justin Hiltner's innovative arch-top banjo styling, mandolinist Casey Cambell's blend of creativity and tradition, fast-fingered guitarist Zach White and the tasty fiddling of Maggie White.
Last year the band crisscrossed the continental US playing shows everywhere from ROMP Fest in Owensboro, KY to Manhattan's Lower East Side to 333 feet underground in McMinnville, TN bringing what Craig Havighurst (co-producer of Music City Roots) called their '...old country-influenced, high energy, song- centered sound' to thousands of music fans.'
2015 has proved to be an exciting year already for the band as they tour heavily with key stops at Delfest in Cumberland, MD and a repeat appearance at ROMP. When not on the road, you can find the band playing at their usual haunts in Nashville: The Station Inn, Music City Roots and The Country Music Hall of Fame.
The band will bring songs from the new EP and their creative take on traditional music to The Kentucky Opry (Benton, KY) on September 23 and The Station Inn (Nashville, TN) on September 25. For a complete tour schedule and EP release info, visit www.vickievaughnband.com [1]