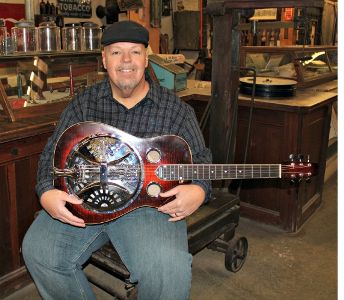 Bluegrass Music's favorite uncle, Dobro artist Uncle Phil Leadbetter has announced that after his most recent PET scan and biopsy that his cancer has returned once again. Twice before he has been deemed "Cancer Free" however, the persistent disease keeps returning. Each return also appears more stubborn the one before. He has been battling the disease on and off now for over four years.
Phil has been keeping fans updated through his social media outlets. He will continue to work with the doctors at Vanderbilt as the team works on a plan to address this latest bout of the disease.
At the end his second round, Phil released his album, The Next Move while he continued waging his battle with Hodgkin's Lymphoma. Shortly after the album's release, he was declared in remission and cancer free for the second time. Determined to win, Phil is putting this latest development as his primary focus as with cancer, time is of the essence.
Always positive, Phil is optimistic about winning this round as he has done before. He has the full support of his family, friends, Pinecastle Records, and his fans. There is a flood of prayers and best thoughts flowing in Phil's direction and the entire bluegrass community is wishing him the best in this latest battle.