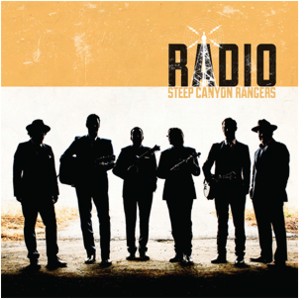 Steep Canyon Rangers are true believers. They give history of their addiction to the airwaves, confessing that they were 'raised on the sound of the radio'. The song, "Radio", is the title track from the upcoming (8-28-15) Jerry Douglas produced album.
Radio
will be the ninth album by the award winning band and follows
Tell The Ones I Love
which was released in 2013. The album contains a dozen all-original material which continue the band's tradition of tight instrumentals with outstanding balanced harmonies.
Do you remember the first time you fell in love with the music on the radio? Do you still remember every word to a song you haven't heard in years? If so, you will understand where this album is coming from. Radio tunes in to what makes the Grammy-winning Steep Canyon Rangers a string band unlike any other, fusing a wide array of influences into their own, unmistakable voice. The Ranger's lastest album, Radio is schedule to be release August 28th on Rounder Records.
From Asheville, NC, Steep Canyon Rangers are an acoustic Bluegrass group. In 2013 the band's 8th record Nobody Knows You won the Grammy for Best Bluegrass Album. Before embarking on a world tour backing comedian/banjoist Steve Martin, the Rangers were also nominated for 2 International Bluegrass Music awards including Album of the Year Lovin' Pretty Women (2007). Steep Canyon Rangers were also named 'Emerging Artist of the Year' in 2006 at the IBMA awards ceremony in Nashville, Tennessee. The group performs heavily in the Bluegrass and Americana music world at festivals like MerleFest, Telluride, Hardly Strictly Bluegrass, Grey Fox, DelFest and RockyGrass. Abroad, Steep Canyon Rangers have performed in Sweden, Ireland, England, Germany, Switzerland and Canada.
Radio track list includes:
"Radio"
"Diamonds In The Dust"
"Simple Is Me"
"Blow Me Away"
"Blue Velvet Rain"
"Looking Glass"
"Down That Road Again"
"Break"
"Wasted"
"Long Summer"
"When The Well Runs Dry"
"Monumental Fool"