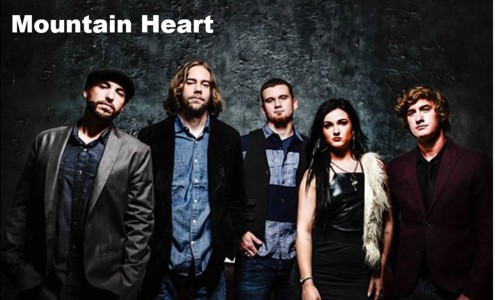 Mountain Heart is excited and honored to announce that Molly Cherryholmes, five-time Grammy nominee and former member of the award-winning band Cherryholmes, is the newest member of Mountain Heart. Molly's musical talent has always been undeniable, and we are all thrilled to bring her on board as a full-time member.
Mountain Heart would also like to extend a big thank you to their longtime friend and fiddler, Jim VanCleve, who has recently stepped down to pursue new musical opportunities, for his contribution to Mountain Heart over the years.
There is anticipation for friends and fans to hear the new Mountain Heart lineup, and the band encourages you to stay tuned as they unveil national touring news as well as new details for their forthcoming release. For now, please help welcome Molly to the Mountain Heart family!
Mountain Heart is the band that has been fearlessly revolutionizing the way acoustic music can be presented and played. The band's name has been synonymous with cutting-edge excellence in acoustic music circles since the group's creation in 1999. Widely known throughout the music industry for continually redefining the boundaries of acoustic music, the band has gained legions of loyal fans both as a result of their superlative musicianship, and just as notably, their incendiary live performances.
Mountain Heart or members have been nominated for Grammy's, ACM, CMA awards. The band has also been nominated for and won multiple IBMA's. They have appeared on the revered stage of the Grand Ole Opry in excess of 130 times, and have shared the stage with acts ranging from Lynyrd Skynyrd, Montgomery Gentry, Merle Haggard, George Jones and Brad Paisley to Alison Krauss, Tony Rice, The Avett Brothers, Yonder Mountain Stringband, The Punch Brothers, Levon Helm, and John Fogerty. ??
Mountain Heart's musical virtuosity - the band is comprised of top call studio pros at every position, unmatched energy, and keen sense of entertainment dynamics have helped them to forge a highly unique sound and stage show which appeals to an ever growing variety of musical tastes. From large
outdoor folk music and bluegrass festivals, to sold-out shows opening for Southern Rock icons like The Marshall Tucker Band, The Tedeshi Trucks Band or Lynyrd Skynyrd, Mountain Heart always makes an undeniable connection with an audience. This rare combination makes Mountain Heart one of the more versatile musical acts ever assembled.
Throughout the band's storied history, members past and present have dedicated their time, talent, and creativity to the group, leading to their hard earned reputation as one of the most exciting and unforgettable live shows anywhere in the world. With a new team in place, Mountain Heart is beyond excited for this new beginning and journey ahead.