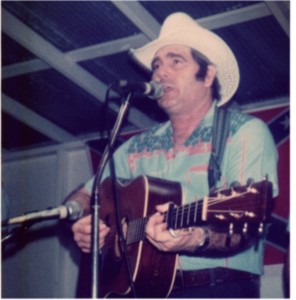 Nashville, TN -- A benefit show for Aubrey Holt, formerly of the Boys From Indiana and the Wildwood Valley Boys, has been planned for Sunday, August 9, 2015. The benefit show will take place at Turfway Park, 7500 Turfway Rd, Florence, KY 41015. The show will feature a star-studded line-up, including Rhonda Vincent and the Rage, Joe Mullins and the Radio Ramblers, The Grascals, Feller and Hill, The Wildwood Valley Boys, and Michael Cleveland and Flamekeeper.
Aubrey Holt has a history in bluegrass music that spans nearly 60 years. He has become a legendary songwriter, having songs recorded by many top names in the bluegrass business. Aubrey toured with his own band, the Boys From Indiana, for over 20 years and has spent the past 10 years with the Wildwood Valley Boys, until February, 2015.
Since March 2015, Aubrey has had multiple stays in the hospital and recently returned home from a nursing home to finish recovering from complications caused from kidney failure and congestive heart failure. He continues to recover, but the medical bills continue to pile up, as Aubrey has not been able to work on the road and do what he truly loves.
A medical expense fund has been set up for those who cannot attend the benefit show and still want to contribute. The link below will give access to donations that will go directly to Aubrey. Click here [1] for the site.
Please feel free to share this link on social media and via email. For more information on the show, please visit www.wobofm.com [2]