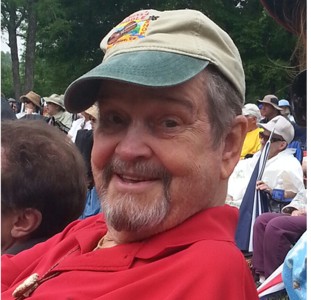 Galax, VA -- The Blue Ridge Music Center will host a Memorial Celebration and tribute to the life, work, and legacy of Joe Wilson, one of the visionaries behind the creation of the Blue Ridge Music Center on the Blue Ridge Parkway on Thursday, June 25. From his brainstorming sessions with former Parkway Superintendent Gary Everhardt on the Music Center to his influential work with the National Council for the Traditional Arts (NCTA),Wilson's passion for the music of Blue Ridge Mountains was immeasurable.
Wilson was also instrumental in the development of The Blue Ridge Music Trails and The Crooked Road: Virginia's Heritage Music Trails. He was the author of A Guide to the Crooked Road: Virginia's Heritage Music Trail. He dedicated that book to: "The musicians of southwestern Virginia, present, and past, in honor of their joyful keeping of a portion of America's musical tradition and their unfailing hospitality and generosity. Among the lessons they teach is that an art form that is freely given and always shared can be kept forever."
Wilson served as director of the NCTA from 1976 to 2004, earning a National Heritage Fellowship and a Living Legend award from the Library of Congress. In 1983, he transitioned the National Folk Festival from an event held in Washington, D.C., to a traveling show.
The Memorial Celebration will allow Joe's many friends, colleagues, family, and fellow music lovers to say a few words about the incredible and vibrant legacy of traditional and roots music he has left by recounting a time with Wilson and/or playing a song or two in his honor.
So bring your instruments and dancing shoes and come join in to the life and legacy of Wilson, champion and advocate for Blue Ridge Mountain music. The Joe Wilson Memorial Celebration takes place Thursday, June 25, begins at 2 p.m. with a Jam for Joe in the breezeway of the Music Center and then moves to the amphitheater at 4 p.m. The event takes place at the Blue Ridge Music Center, 700 Foothills Road, Galax, Virginia; Milepost 213 - Blue Ridge Parkway. Admission is free.
In lieu of flowers, it is the wish of the family that contributions in memory of Wilson be made to the NCTA to support programs that promote and benefit the Blue Ridge Music Center and the artists of the Blue Ridge region. Send to: NCTA, 8757 Georgia Avenue, Suite 450, Silver Spring, MD 20910.
The Blue Ridge Music Center is one of the major attractions along the Blue Ridge Parkway and includes a state-of-the-art performing arts facility built to preserve and promote the historic music of Blue Ridge Mountains. The Blue Ridge Region has produced more old-time and bluegrass musicians per capita than any other region and serves as the epicenter of many of America's living music traditions. The Music Center is operated by the National Park Service, and the programming is coordinated through a partnership with the Blue Ridge Parkway Foundation. The Blue Ridge Music Center is a major venue of The Crooked Road: Virginia's Heritage Music Trails and a partner venue of the Blue Ridge MusicTrails of North Carolina.www.blueridgemusiccenter.org [1]