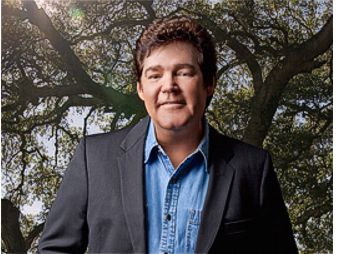 Galax, VA -- Award-winning country music artist Marty Raybon brings his signature voice and talented band, Full Circle, to the Blue Ridge Music Center on Saturday, June 27, at 7 p.m. For 12 years, Raybon was the lead singer of popular country band Shenandoah and also has multiple solo albums. Gary LeVox, lead vocalist of Rascal Flatts, has called Raybon "the greatest singer on the planet to this day."
He has a remarkable list of career accomplishments, including multiple number one singles, top selling albums, CMA, ACM, IBMA, and Grammy awards, along with scores of other accolades. Collectively, his contributions to the recording industry have sold well into the millions and he has performed thousands of concerts across the world. www.martyraybon.com [1]
Opening the evening is Travis Frye & Blue Mountain, a multigenerational bluegrass band that honors the Appalachian roots of the music while adding a modern twist. With members from both the Carolinas, the band incorporates spirited fiddle and banjo tunes along with modern selections from country, bluegrass, and gospel traditions, as well as original material. The band has performed on historic radio and television shows such as The Merry-Go-Round in Mount Airy, North Carolina, Blue Ridge Backroads in Galax, Virginia, and PBS's Song of the Mountains in Marion, Virginia. www.travisfryebluemountain.com [2]
During the concert, The Galax Smokehouse will be on site serving its signature barbecue, down-home sides, drinks, and dessert.
Marty Raybon & Full Circle + Travis Frye & Blue Mountain perform Saturday, June 27, 7 p.m. at the Blue Ridge Music Center, 700 Foothills Road, Galax, Virginia; Milepost 213 - Blue Ridge Parkway. Admission is $15, free for children 12 and younger Tickets are available at www.BlueRidgeMusicCenter.org [3] or by calling the Blue Ridge Parkway Foundation office at (866) 308-2773, ext. 245. In person at The Blue Ridge Music Center, Galax Visitors Center, and Barr's Fiddle Shop in Galax, Virginia.
The Blue Ridge Music Center is one of the major attractions along the Blue Ridge Parkway and includes a state-of-the-art performing arts facility built to preserve and promote the historic music of Blue Ridge Mountains. The Blue Ridge region has produced more old-time and bluegrass musicians per capita than any other region and serves as the epicenter of many of America's living music traditions. The Music Center is operated by the National Park Service, and the programming is coordinated through a partnership with the Blue Ridge Parkway Foundation. The Blue Ridge Music Center is a major venue of The Crooked Road: Virginia's Heritage Music Trails and a partner venue of the Blue Ridge Music Trails of North Carolina. www.BlueRidgeMusicCenter.org [3]