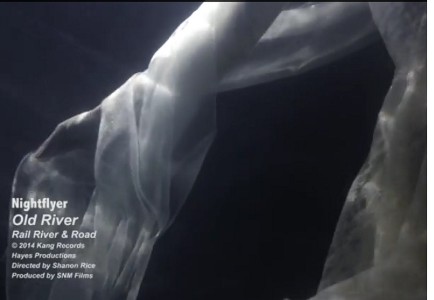 The Ohio band Nightflyer has completed their first professional video for the Hazel Dickens' tune "Old River" off their recent CD, "Rail River & Road." It's safe to say that it isn't your average bluegrass video. The video was filmed over two days along the banks of the Ohio River in the quaint little town of New Richmond, Ohio, just east of Cincinnati; and an additional day in a Northern Kentucky swimming pool. Yes, swimming pool.
The underwater footage took a full day of submerged shooting to get just the right shots. Director/Editor Shanon Rice and videographer Matthew O'Pry flew in special under-water camera equipment from New York just for the shoot. Scuba gear was also used so that videographers could remain submerged for long periods to capture the footage. Here's a behind-the-scenes shot of Ron Stewart, banjo player and lead vocalist on this tune, diving into the pool.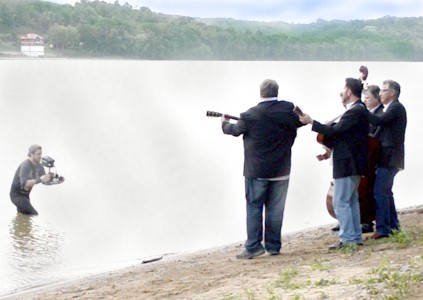 The project was a collaborative effort between the band and a talented new video production house, SNM Films, owned and operated by Rice and O'Pry. Rick Hayes, Nightflyer's mandolinist, is working with Rice and O'Pry, providing some background music for a coal-mining short film they currently have in production. Rick had this to say, "All the guys thoroughly enjoyed the experience, are thrilled with the results and can't wait to do the next one. We hope you enjoy it."
The band's lead singer and guitarist Richard Propps consistently receives rave reviews on his powerful and often awe-inspiring vocals and excellent guitar playing. Superb mandolinist and occasional lead vocalist Rick Hayes, spent four years touring nationally with the Gibson Brothers, and recived a coveted Highlight Review from Bluegrass Unlimited on his solo CD "Fly By Night." Tony Kakaris is the rock solid heartbeat of Nightflyer on the standup bass, lending baritone as well as lead vocals to the group.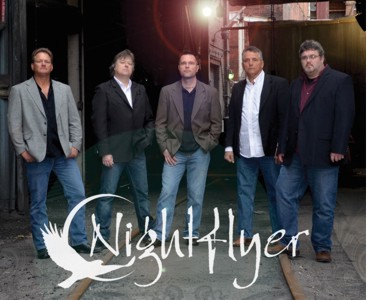 Tim Jackson adds spice to the mix with his fiery dobro performances, and an occasional lead and baritone. Rounding out the sound is Ronnie Stewart, contributing killer banjo, and sweet lyrical tenor and lead vocals. Each individual is outstanding on their own, but this is truly a band that is greater than the sum of its parts.
Nightflyer is one bluegrass band you don't want to miss -- mostly contemporary with strong traditional bluegrass roots, a little gospel and just a touch of the blues thrown in, and nothing but fun to watch. For more information about Nightflyer, visit www.NightFlyerBand.com [1]. "Rail River & Road" is available through at NightFlyerBand.com, CDBaby and iTunes.