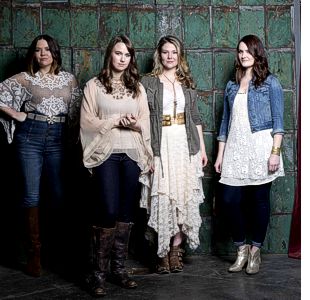 Della Mae, an all-female contemporary Bluegrass-Americana group, takes the stage at the Blue Ridge Music Center amphitheater on Saturday, June 13, as part of a cross-country tour promoting the band's new self-titled record. Two-time Grammy winners Cathy Fink and Marcy Marxer will open the show.
"We were ready to try something new," says band member Celia Woodsmith of Della Mae's eponymous third album. "In some ways, this album is very different from what we've done previously, but it's self-titled because we feel like it sounds as much like us as anything we've ever done."
With the new release, Della Mae expands upon the musical achievements of the group's widely acclaimed, Grammy-nominated 2013 album This World Oft Can Be, which established the multitalented combo as a potent musical force. With a sensitive but assertive approach that's steeped in tradition yet firmly rooted in the present, the four versatile instrumentalists/vocalists draw from a bottomless well of rootsy influences to create vibrantly original music. The band's sound conveys its expansive musical vision with timeless lyrical truths and an unmistakably contemporary sensibility that places it alongside such roots-conscious young acts as The Avett Brothers, Punch Brothers, The Lumineers, and Hurray for the Riff Raff. www.dellamae.com [1]
Cathy Fink and Marcy Marxer are talented singers, songwriters, instrumentalists, educators, and record producers. The duo, which has twice won the Grammy Award for Traditional Folk Album of the Year, is a formidable powerhouse of sound, with a repertoire of traditional and contemporary folk, old-time country, and swing music. Their superb harmonies are backed by instrumental virtuosity on the acoustic and electric guitar, five-string banjo, mandolin, cello banjo, ukulele, percussion, and many other instruments. www.cathymarcy.com [2]
During the concert, The Galax Smokehouse will be on site serving its signature barbecue, down-home sides, drinks, and dessert. Catch Della Mae with Cathy Fink & Marcy Marxer Saturday, June 13, 7 p.m. at the Blue Ridge Music Center, 700 Foothills Road, Galax, Virginia; Milepost 213 - Blue Ridge Parkway. Admission: $20 and tickets are available at www.BlueRidgeMusicCenter.org [3] or by calling the Blue Ridge Parkway Foundation office at (866) 308-2773, ext. 245. In person at The Blue Ridge Music Center, Galax Visitors Center, and Barr's Fiddle Shop in Galax, Virginia.